Welcome to the Gershowitz's Canyons home at BIGHORN. The couple's entry courtyard with fireside lounge transports all who enter to Italy. They found the centerpiece antique well buried in a Los Angeles antiques store. "It's quite a historical piece. It's over 300 years old and is fully functioning," Hal says. A Deborah Butterfield horse stands nearby, enjoying the tranquil ambiance.
Author, business professionals, and philanthropists: Is there anything that Diane and Hal Gershowitz can't do? This dynamic duo has been married for 32 years, after being introduced by Diane's cousin and BIGHORN Members, Susan and Stephen Porter. Their first date in 1983 led to a whirlwind courtship, and within 20 months they were married and in the process of moving Diane from Milwaukee to Chicago. "He Shanghaied me," she adds with a laugh. Hal and Diane met in their mid-40s and quickly blended a beautiful family comprised of Diane's three children – Larry, Dan, and Jill and Hal's son, Michael, and daughter, Amy, as well as nine grandchildren.
Hal, who had enjoyed a successful career in marketing, advertising, and association management in Washington, D.C., had moved to Chicago at age 34 to join the senior management team at Waste Management Inc. shortly after the newly formed company went public. By the time Hal retired 20 years later, Waste Management had grown into an international environmental management company operating throughout North and South America, Europe, and the Middle East.
Diane grew up in Ripon, Wisconsin, where her parents founded The Marcus Corporation in 1935 with just a single theater. Diane and her brother grew up watching the very best in cinema, her favorites being Breakfast at Tiffany's and African Queen. "Growing up, my brother and I practically lived in the theater watching all of the amazing classics and eating lots of popcorn," shares Diane. "We dreamed in adventures, so it's not surprising that luxury entertainment became our future!" Today, The Marcus Corporation is the fourth largest movie theatre exhibitor in the United States and a leader in the lodging and entertainment industry.
The company expanded into drive-in movie theatres in 1949, then into Bob's Big Boy in 1958 where Diane used to hostess before attending the University of Wisconsin. "When Marcus purchased the Pfister Hotel in 1962, getting into the lodging business, it was an incredibly large remodeling project. I was a mother of three, and I would spend my days inventorying all the rooms." The company went public in 1972, and Diane was asked to join the Board of Directors on which she serves to this day.
When it's time to relax, Hal and Diane might be found in their gorgeous outdoor living room or on the poolside entertainment patio, admiring the Santa Rosa Mountains and Canyons 5th fairway. With a spa flowing into the pool combined with elevated fire pit lounge, barbecue center, multiple living and dining areas, fireplace, and television, who needs indoor living? Below right and left: "We love the friends we have met at BIGHORN; they mean the world to us," shares the couple." Below middle: Diane and Hal with their close friend, Major League Baseball Commissioner, Bud Selig.
"I love the entertainment business!" she smiles. "My brother has been involved since his 20s, as have his sons. It's wonderful to experience three generations of family so invested in a thriving company. I am continuously amazed to see what is new in the entertainment lifestyle and all that we are involved in now. Our parents would be thrilled and incredibly happy that their children and grandchildren have developed a marvelous team to lead the company." In 1993, The Marcus Corporation moved to the New York Stock Exchange where it now showcases 895 screens at 69 locations in eight states. Numerous Marcus Hotels and restaurants including Reel Sizzle, Miller Time Pub, ChopHouse, Madison Street Grill, and Safehouse are run by the corporation. Even Milwaukee's Marcus Performing Arts Center bears the family name.
Hal grew up in inner-city Washington, D.C., where his parents owned a small corner grocery store. A graduate of the University of Maryland with a degree in Business and Public Administration, Hal started out as an account executive in marketing research for a small boutique marketing research firm and was soon recruited by a major Washington advertising agency to become its Vice President of Marketing. In 1964, Hal went into business with another advertising executive, Larry Hogan. Four years later, the two men became involved in politics and scored the biggest Congressional upset in the United States by electing his partner (a Republican) to congress in the most solidly Democratic congressional district in the United States (Maryland's 5th congressional district). Today, his former partner's son is the current Governor of Maryland.
In 1969, Hal founded the National Capital Tay-Sachs Foundation after his son Steven was diagnosed with this very rare and uniformly fatal disease. Hal led the effort to establish, at Johns Hopkins University in Baltimore, the first mass genetic-screening program for Tay-Sachs Disease, which has served as a model throughout the western world and has all but eliminated the incidence of children born with this tragic disease. "It's probably the single most important thing I have done with my life," says Hal. In Chicago, Hal served as Corporate Senior Vice President of Waste Management Inc. "The Waste Management model was pretty simple. It was a service virtually everyone needed, there were few barriers to entry, and the cost of start-up was manageable. We were able to pursue this model with other businesses that we later developed subsequent to my retirement from Waste Management."
In 1987, Hal became the Chairman of New Century Information Services, a software company that provided management service to the retail apparel industry. Hal and Diane later founded New Century Ventures, which developed a Midwest chain of Blockbuster Video stores that they sold to Viacom in 1994.
Most recently the couple has become partners in an exciting new venture called Workuity. This collaborative workplace environment combines business services, conference rooms, and office and work space that freelancers, entrepreneurs, and other businesses can lease for a day, week, or month-to-month. Workuity has been described as a place where young entrepreneurs and seasoned business professionals alike can graduate from Starbucks to a more appealing "Google-style" work environment. This progressive approach is especially popular with millennials. The creative concept encourages young business men and women to work interactively with other Workuity-based entrepreneurs as they build their own businesses. Complete with lounge and shared work space, larger private multi-person modules, a high-tech theatre and conference rooms, and contiguous to cafés and outside patios, the high-energy workspace filled up fast. The initial Workuity opened in Phoenix in April, and the company has identified several additional locations they believe are equally attractive.
Remembering Our Family's History
In 1988, Bantam published Hal's first novel, Remember This Dream, which focuses on the upheaval of Polish Jews when sisters Anna and Dvoyra are separated upon Anna's immigration to America. While the story is fiction, much of it is based on the history of Hal's mother's family. Anna and her daughters are impoverished refugees, while Dvoyra and her family struggle to survive the horrors of anti-Semitism and war. The story is rich in history and reality, encompassing war and its impact on the novel's characters. The book's opening scene describes the moment Anna and her three daughters leave their tiny Polish home in a horse-drawn wagon and the children's grandfather runs alongside crying, "Remember me! Remember me!" Hal chose this scene to begin the book because it corresponds exactly to what his elderly aunts remembered about their departure from the old country when they were young girls. This poignant passage was captured in bronze when Diane commissioned artist Phillip Ratner to depict the scene. She had Ratner, who was also a boyhood friend of Hal's, bring it to his 50th birthday party. "To see a poignant piece of my family's history memorialized this way was overwhelming, especially when it was made possible by two people I love so much," shares Hal. Hal's first historical novel, based on real-life events, was also named as a Bestseller by the Chicago Tribune, and it won the 1989 Friends of Literature Award for fiction.
Hal and Diane work together in their beautiful library at BIGHORN, where Diane helps with the research for Hal's books. Here, they bounce ideas off one another and motivate each other's efforts.
Diane's passion for education has led her to chairing College of the Desert's "Steppin Out for COD" five times, which has raised funds for student scholarships awarded to these talented women pictured with her on the top right. Bottom left: Hal championed a successful program this past season for the Barbara Sinatra Center for Abused Children with special guest 20-time Olympian Michael Phelps, also pictured here with their granddaughter Samantha. The couple introduced Mona Golabek of "Pianist of Willesden Lane," to the McCallum Theatre; she also performed for school students.
"From the very beginning, I promised myself that if the book ever earned a dime I would donate any royalties I received. As it turns out, the book was published at the time the United States Holocaust Memorial Museum in Washington, D.C., was under construction, so I donated the royalties to the Museum. I feel it's vitally important to remember our collective history so that the darkest periods won't be repeated." Hal was, subsequently, appointed to serve on the Governing Council and Executive Committee of the United States Holocaust Memorial Museum by both Presidents George H. W. Bush and Bill Clinton. The museum inspires citizens and leaders worldwide to confront hatred, prevent genocide, and promote human dignity. "I was honored to work alongside Elie Wiesel," a Nobel Prizewinning advocate for peace. "Having my name among those etched into the cornerstone of the museum is pretty humbling," Hal says.
"It's the largest, and best executed project I have ever been involved with, and it has taken me in directions that my immigrant grandparents and their children would have never ever dreamed." To date, the museum has hosted more than 40 million visitors.
Hal also served on the national Board of the Anti-Defamation League for many years, and, in 1994, was awarded the League's Lifetime Achievement Award. Hal's second novel, Heirs of Eden, and its sequel, The Eden Legacy, tackle conflicts of culture and politics. Two families, one Jewish and the other Palestinian Christian, struggle to rid themselves of century-old bias. The children endure society's tension while remaining loyal to each other, but historic prejudices and animosities continue to haunt them. The novels remind us that we have the power to challenge those whose handed-down beliefs try to divide us.
An Honorary Doctorate in Humane Letters was bestowed upon Hal by the Catholic Theological Union (CTU), the largest Catholic graduate school in theology in North America, for his community activism including advocacy for the Catholic-Jewish dialogue in Chicago. His service on the National Advisory Board of the Bernardin Center at CTU led to spearheading the campaign to endow the Directorship of the Catholic-Jewish Studies Program at CTU.
Supporting the Coachella Valley
A creative essayist who is strongly committed to community, Hal has also served as President of Chicago's Goodman Theater and currently serves as Vice Chair of our own McCallum Theatre as well as Vice President and Treasurer of the Barbara Sinatra Center for Abused Children.
The elegant Gershowitz living room is a blend of romantic furnishings, beautiful antiques, and an eclectic art collection, from Botero to a Rodin brought from Paris. Over the antique fireplace, a compelling three-dimensional, multi-media work by artist Cathy Pitts was commissioned as an inspired replica of a beloved family heirloom Diane's family sold: Picasso's original "Musketeer with a Pipe". A clay bowl on the coffee table (encased in plexiglass) was gifted by a renowned Palestinian antiquities authority who Hal met in Bethlehem while researching his second historical novel. It dates back over 3,500 years to the time of Abraham.
Diane has also had a long-standing commitment to both local and national community service. She served on the Women's Board of the Museum of Contemporary Art Chicago and chaired Vernissage, the opening night of Chicago's famed Art Expo. She also serves on the Annenberg Theatre Council and has chaired five College of the Desert Stepping Out events along with this past season's BIGHORN BAM Game Day for Life. "People are always happy to be going to the theatre. It's culturally enriching to feed one's soul," she adds.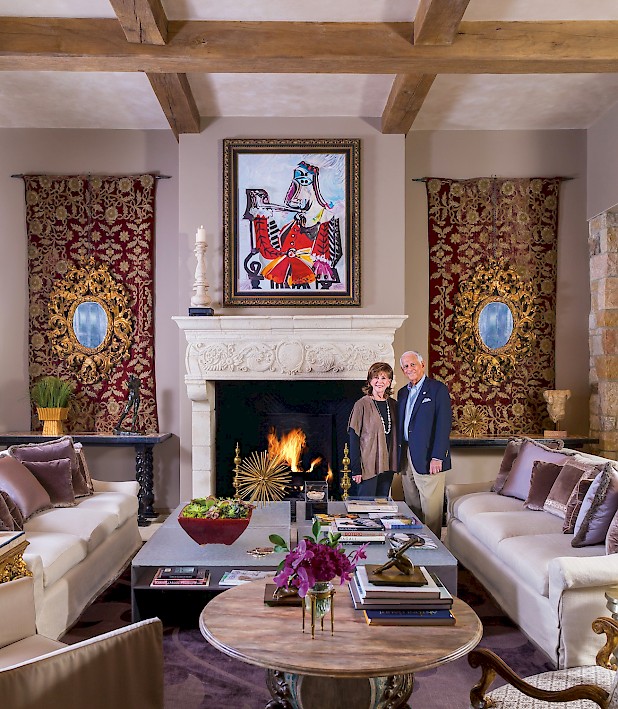 "I serve on the Board of the College of the Desert (COD) Foundation because it educates the lifeblood of our community, helping students who might otherwise have no access to higher education," she explains. COD offers Associate Degree Programs and over 100 vocational Certificate Programs in a wide variety of disciplines that helps transform the Coachella Valley workplace. "I am especially impressed by the Edge Program," she says, referring to a three-week comprehensive course that assists students by offering math review sessions, English classes, and the tools necessary to excel in college.
"I also love the Early Childhood Development Center, where students who take six credit hours or more can take their children for day care while they attend school," she beams. At the same time, the center offers state-of-the-art training for COD students majoring in early childhood development.
COD Foundation Executive Director Peter Sturgeon praises Diane, "Rarely does someone come along who is a 'tipping point' person for an organization – one who not only has an extraordinary knack for making friends but also has such passion and commitment that those friends become eager to follow her. Diane is that person. COD and our 15,000 students are profoundly bettered by Diane's devotion."
Loving the Desert
Diane and Hal have been Members for over a decade. In fact, they were at another club when they made the decision to build their dream home. They fell in love with a homesite above the Canyons 5th fairway with majestic Santa Rosa Mountain views. So the pair orchestrated a talented team, hiring their favorite designer, Dale Carol Anderson from Chicago, and architects Mark Trudeau, also from Chicago, and Lynn Scott, who lived and worked in Palm Desert at the time.
For Diane, the home's design started with the kitchen. Inspired by a visit to a DeGiulio showroom where she saw a La Cornue range and oven in a contemporary kitchen, she saw the possibilities of blending sophisticated modern style with the elements of beautiful French stone. Voila! Her kitchen is now a masterpiece of stainless steel and romance that influences the comfortable design and flow of the entire home.
"Moving to BIGHORN has been one of our best decisions," says Diane. "The entire community is filled with incredibly talented people, and we have made friends here with whom we will be connected forever. Our lives have been fully enriched by our experiences. And having the opportunity to contribute to the well-being of the Coachella Valley is an added bonus."
"We are looking forward to working on the next chapter of our lives here," adds Hal.
Diane and Hal love the view of the Santa Rosa Mountains and Canyons' 5th hole from their exquisitely designed home.