The Vault at BIGHORN, with its racy architectural design, is the car aficionado's ultimate home away from home! Inspired by the sleek design of European's finest cars, vintage Americana models, and one-of-a-kind automobiles from around the globe, the talented minds behind The Vault have created a state-of-the-art car museum and interactive play station for the pleasure of each BIGHORN Vault Member. The Vault's extraordinary showplace interior houses 50 of the world's greatest automobiles and eight sleek, road-machine motorcycles. Plus, BIGHORN is the first and only club to offer a premium vehicle showroom with a lifestyle aspect in its 2,750 sf Redline Lounge. It's easy to see why The Vault sold out before its November 2015 unveiling!
Designed as a first-class facility available only to BIGHORN Members and their personal, prized vehicles, The Vault at BIGHORN is 24,000 sf of designated space in which car enthusiasts can celebrate their passion. "The Vault Members' distinctive cars are the true eye candy," beams Jay Westman, BIGHORN Member, President of The Vault and Chief Executive Officer of Jayman Built. "These are our favorite trophies, where Vault Members can view them all from the Redline Lounge and reminisce over some of their favorite stories about their treasured cars." Directly adjacent to and raised above the garage floor is a designer sports lounge, the Redline Lounge, featuring indoor/outdoor seating, eight flat-screen televisions and a car aficionado-inspired bar.
"We have dreamt of this car haven for a few years and it's thrilling to see just how well-received and successful it has turned out!" says Westman. "Our one-of-a-kind experience has received international acclaim with some of the most prominent publications, networks, and business people in the world. As a developer myself, it's exciting to really enjoy the lifestyle we have created: one of the most unique amenities developed in such a prominent, established community."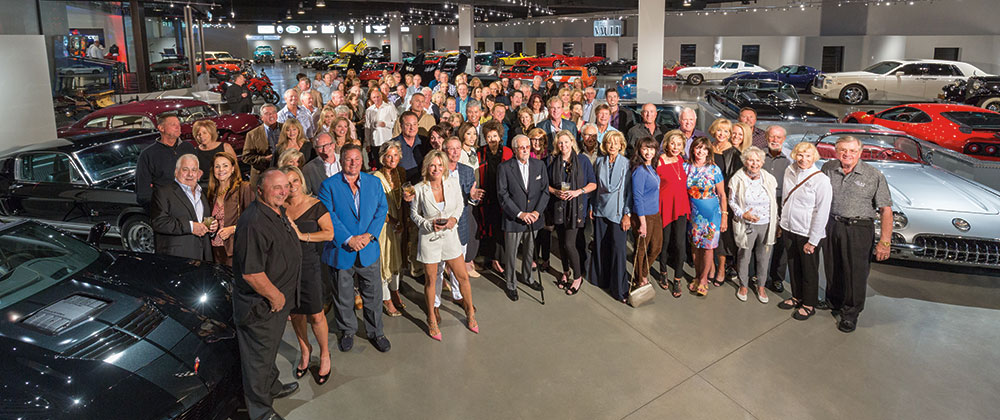 "The intricate details in The Vault's handcrafted, bank vault-style doors are mesmerizing, and then you see them retreat back to reveal the most stunning car collection ever assembled in one location!" describes Westman. "Your jaw literally drops and a simple yet significant 'Wow!' escapes."
Guests savor every chance to get into the Virtual Race Simulator where they can race every brand of car on any track in the world! The Pro Cockpit features a custom-designed MOMO RACING wheel with integrated fingertip controls, a quick release, and shifting paddles connected to a powerful force feedback steering system. An LED shift light indicator positioned at the top of the dash just below the driver's field of vision provides MPH/KPH speed, RPM, gear, and lap times all on its digital display. With well over 500 VirtualGT racing simulators deployed worldwide, VGT is motorsports' most popular racing simulator and the only personal simulator taken seriously by racing professionals.
Even before stepping inside the Redline Lounge, its turbocharged entrance sets the stage for the premier car-and-driver experience. Through glass doors awaits a show-stopping McLaren grille and two custom curved sofas that provide double-sided seating options around a finely crafted Ferrari tachometer coffee table clearly redlining. Above, a James Bond-esque chrome sculpture complements a ceiling made of black lacquered slats, radiating the excitement of the expertly designed space.
The Vault's creation at BIGHORN is appropriate and consistent from a Club that incessantly works to stay ahead of the curve by providing a long-list of amenities and world-class experiences. Responding to Members' passionate interest in collectible automobiles, BIGHORN Development fronted the costs associated with the construction and results proved a fruitful end leading to a sold-out Vault!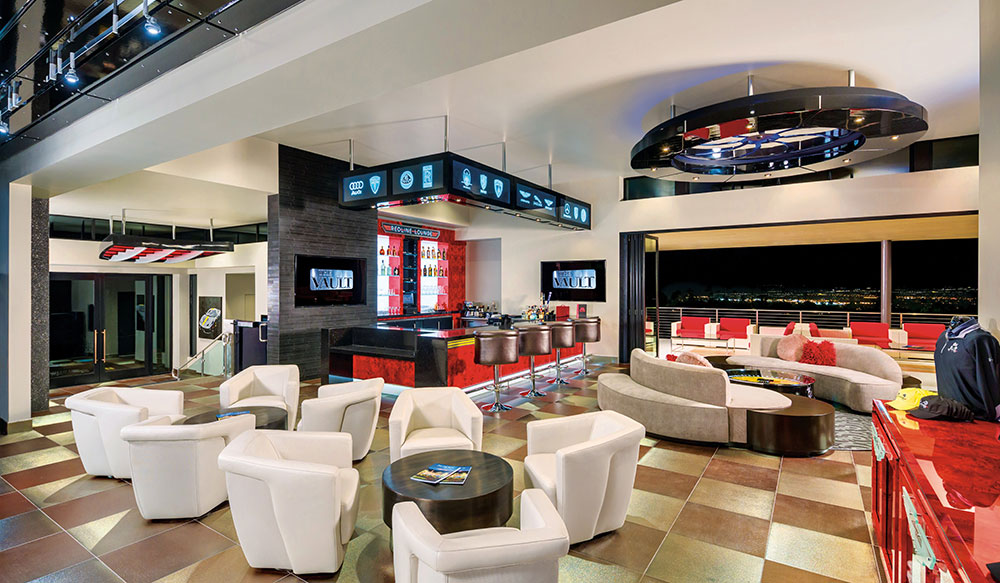 BIGHORN Members, including Westman, who have bought spaces inside The Vault appreciated that it would draw a rare mix of luxury liners, vintage cruisers, muscle machines, exotic sports cars, and genuine track-ready race cars that span the best eras of history on four wheels – all in one private facility.
1933 Cadillac Chrome Limousine
A true classic! Everything is original on this 1933 Cadillac Chrome Limousine parked in The Vault, all except for the tires. This sevenpassenger limo has less than 7,000 miles on it. The story is that Sumner Carson, heir of the Pacific Lumber Company, custom designed the car for his wife, Amelia. He died a year later and his wife vowed to never drive it again. Ten years later, Amelia died and left her estate to her 30 cats. When relatives finally retrieved her estate, the gem was discovered and sold. The 1933 Cadillac had three other owners before Bob Harris purchased it, all who have treated it with care. Only three of these cars exist today and its estimated value is priceless. When judged, this exceptional Caddy consistently scores 96-97 points out of 100. Quite a Blue Ribbon winner!
It's All in the Family
You've gotta love when passion for cars runs in the family, especially when it involves a father, daughter, and son who are all Vault Members! All three of them have been Members of BIGHORN for years. In fact, Jim and Claire Gagan were the twelfth Members joining in 1992. Quite often, family members fall in love with the community and the entire family joins not wanting to miss out on the fun!
Jim Gagan, a.k.a the "dad" and one of the original investors in BIGHORN, owns the 1970 Dodge Challenger Custom Roadster. This gem was originally a 4-door classic. But when a tree fell on it, the original owner – who always wanted it to be a 2-door – had it restored, making it the only one of its kind. It has a choice 6.1 liter Hemi engine that produces 900 horsepower. It was unanimously voted the World's Ultimate Mopar-Modified at the Mopars at the Strip in 2011 and was one of 20 rare custom cars invited to the Playboy Mansion.
Son Jamie Gagan drives the stunning 1960 Chevrolet Corvette Convertible with 20" chrome wheels and a ZZ4 crate motor putting out 355 horsepower. This brilliantly done Restomod Roadster loves the road and is ready for a long drive along the California coast.
Daughter Sarah Gagan owns the stellar 1932 Ford Custom Roadster, "Boydster II." This is a legendary Chip Foose design and winner of the coveted America's Most Beautiful Roadster award in 2003. Its prime placement in The Vault captures a lot of attention – not only for its cherry red color but also for its legendary design that instantly transports vistors or fellow Members back to the 1930s' classic era of automobiles.
"Everyone loves The Vault," exclaims Jim Gagan. "People can't wait to learn about the cars, their history, and what makes them extremely rare and special."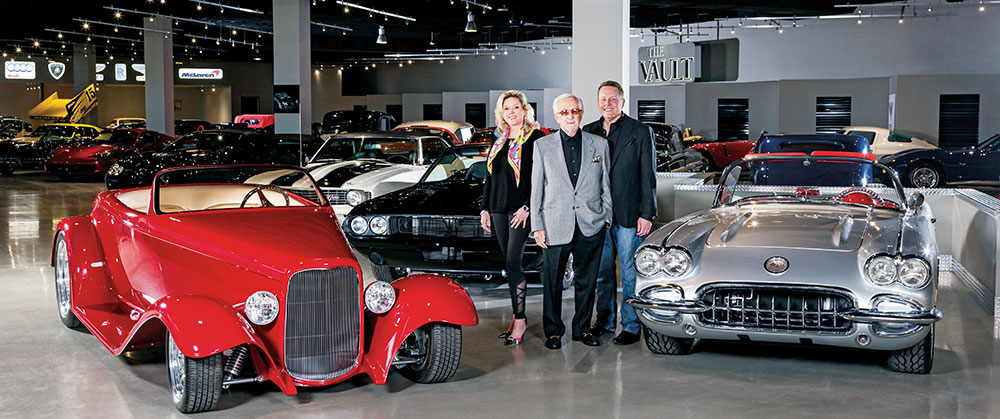 LaFerrari Hybrid Supercar
BIGHORN's avid collectors show off a wide variety of cars, including a stunning LaFerrari Hybrid Supercar. This is truly a very rare automobile as the owner must first own at least 10 Ferraris before getting on the list to purchase the $1.5 million, high-performance supercar. Because of its unique appeal, this car could easily sell for millions more – but why sell? With only 499 of these LaFerraris in production, this one boasts 949 horsepower thanks to a V12 6.3 liter engine combined with an electric KERS unit for extra bursts of power. This red LaFerrari means business!
High-Performance Exotics
Vault Members and their guests will see a wide variety of vintage and modern vehicles. Check out the extremely sexy 2008 Mercedes-Benz McLaren SLR with 617 horsepower for starters. This sports car can achieve 0-60 mpg in 3.6 seconds with a redline speed of 209 mph. Its value? A cool half million dollars.
The stunning orange 2016 Porsche 911 GT3 RS is hard to miss. It's holding a 500 horsepower engine that revs 0-60 mpg in 3.1 seconds. It actually ran a 00:07:20 second lap time at Nürburgring Nordschleife in Germany, turning heads with its impressive speed and bold prowess on the track.
Ferrari owners seem to be the most active collectors in The Vault – we have TWO 2015 Ferrari 458 Spiders! Both are candy red and simply beautiful in design, powered by a 562 horsepower V-8 engine. Very few cars can match this mid-engine convertible.
Corvette Magazine couldn't wait to check out the 2016 Callaway Corvette Z06 Supercharged Convertible with an extra special Callaway engine nearing 850 horsepower and traveling 0-60 seconds in 2.8 seconds.
Mercedes attempts to lure buyers away from their nemesis Porsche with the 2016 Mercedes Benz AMG GTS. A prime specimen happens to be housed in The Vault. With 503 horsepower, super sleek design, and bright yellow color, one might think they had just witnessed a sun flash with this car cruising up Highway 74.
Security is Paramount
The Vault hosts a high-tech, climate-controlled facility where security is paramount and cutting-edge technology is a given. From fingerprint scanners and 360-degree HD cameras to 4K ultra high-definition televisions, all are monitored 24 hours a day by the extremely professional Privacy Department at BIGHORN.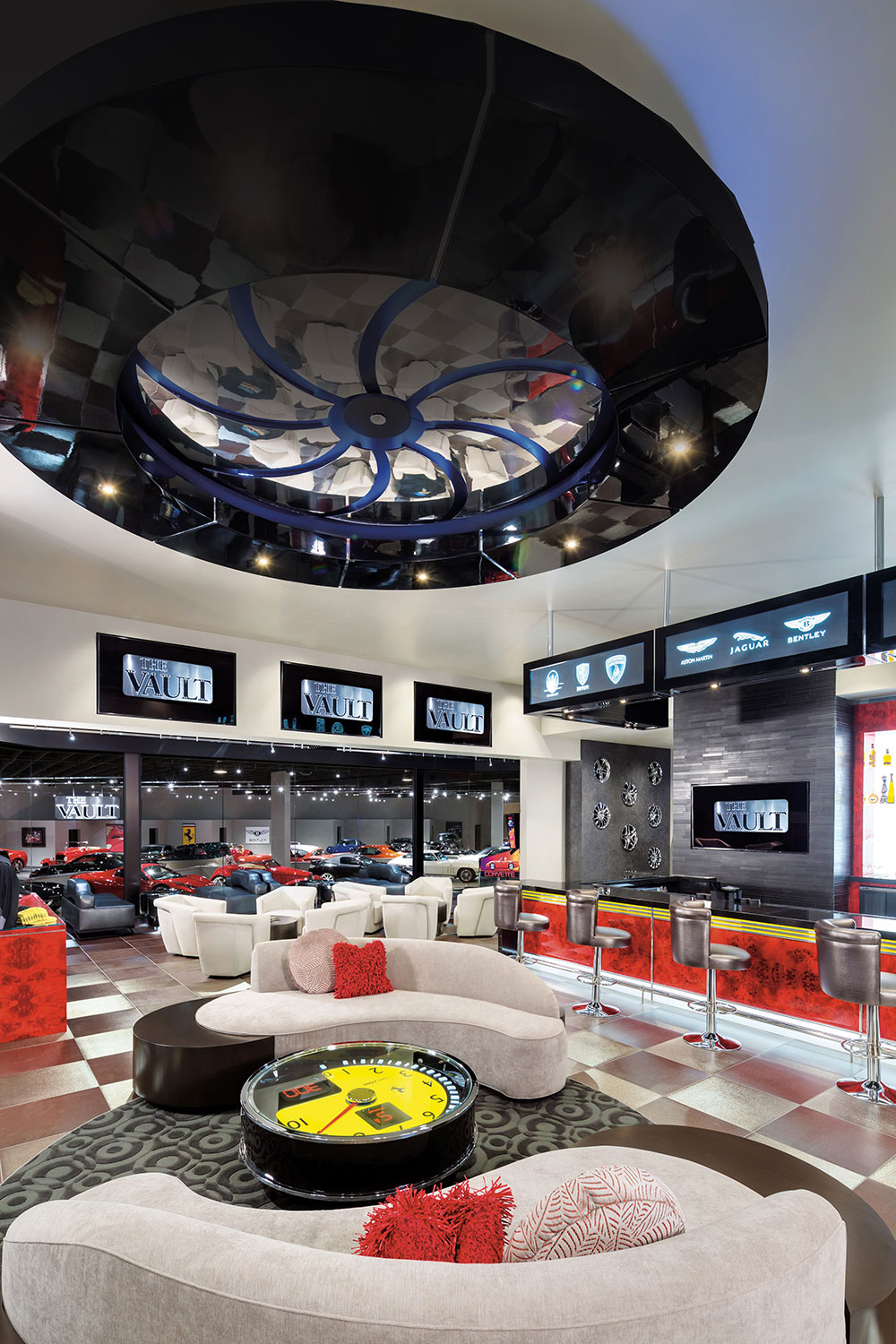 New Product Launches, Parties & Fundraisers
After its first season of operations, The Vault has seen an incredible amount of private and Member-sponsored events, from Aston Martin product launches to the inaugural Hemi Shaker Party, with the response being a resounding "WOW!" Guests often ask if another Vault will be built. Even with an extremely full waiting list for this truly exceptional opportunity, the focus will remain on the one and only. The rarity of having such a place in one's own community makes being a Vault Member an exceptional source of pride.
"The Vault is an innovative offering for BIGHORN Members and indiGO Auto Group," expresses Todd Blue, BIGHORN Member and Chairman and Dealer Principal of indiGO Auto Group's Desert European Motorcars. "We have hosted some of our most successful product launches at The Vault, offering our clients the opportunity to experience our collection as well as the spectacular collection on display here. Automobile fascination has always been a part of this great country. Complementing classic cars with modern luxury and exotic cars, all in one building, makes The Vault an incredible launching pad for organized ride and drives, excursions to track days, and field trips."
For more information on The Vault, visit www.bighorngolf.com/thevault.