Known for two decades of cutting-edge innovation, BIGHORN recently introduced the next phase of luxury living, The Penthouse Collection. Built on 20-plus years of passion for excellence, this incredibly lofty vision has come to full realization – this is BIGHORN from an entirely new perspective.
BIGHORN's Penthouse Collection features four penthouse residences offering a completely unique experience. Ranging in area from 5,150 sf to 6,790 sf atop BIGHORN's new 80,000 sf Clubhouse, each Penthouse at 1,000 feet in elevation enjoys spectacular views of mountains, fairways, and city lights. Created by the genius of internationally renowned designer, Guy Dreier, are four different, distinctive and dynamic floorplans offering an unmatched way of life. As the name and the talent behind some of the most forward-thinking and iconic homes in the world, Dreier further applied his considerable design talents to completing two of these Penthouses with exquisite furnishings created and selected solely for them. These modern interiors of unparalleled elegance offer an environment for comfort, relaxation and ease of living. From each Penthouse threshold, one enters a world all one's own – with privacy, security and access to immediate, exclusive services at the center of the Club.
Dreier's history with BIGHORN began more than 28 years ago when saw the property before it was developed and then, a year or so later in 1991, he designed BIGHORN's first custom home. The home which bears some of the embryonic elements of his distinctive style that is so valued and acclaimed today, has stood the test of time and continues to be enjoyed by one of BIGHORN's investors. It was only fitting to have him now create this latest milestone of BIGHORN's legacy. "It was an honor to be involved and to be considered among all of the great designers who have built at BIGHORN," shares Dreier. "This had to be special so I knew I wanted to be inventive and to create something never before seen."
After a month, or so, of Penthouse floorplan sketches and development Chairman Hubbard and, President Cardinalli were excited about the possibilities, and Guy Dreier Designs joined the Clubhouse team of Swaback Partners, Lusardi Construction, and Blackbird Interiors. "It was an excellent team of professionals who were really committed to producing the best quality, most groundbreaking Clubhouse," notes Dreier.
"The way I design, it just flows naturally," Dreier explains. "I try to be as sculptural as I can, to make the spaces flow and invite the outside in. My intention is to focus the architecture to point and draw you towards the views, incorporating experiences along the way with art and décor that blend effortlessly to the main art form, the breathtaking views below."
As anyone will attest after seeing the Penthouses, Dreier once again exceeded the expected and created what others could only wish to achieve.
BIGHORN's Penthouse 303 is high drama with 21 foot ceilings, custom furnishings, dynamic art and spectacular down valley views.
PENTHOUSE 301
The spacious, dynamic inviting floorplan of Penthouse 301 is apparent the moment you step out of the elevator. "Everything we create has intention," says Dreier. "So when looking at the three-dimensional model, I sketched the ceiling and flooring to sculpt the space and direct the eye towards the inspiring mountains and valley views. We found this incredible Antarctica Cream granite and paired it with Persiano Limestone flooring and clear cedar ceilings to elongate the space and create a persona of comfortable elegance." Curves and drama combine as you wander through the sophisticated wine lounge. Sculpted Tabu Ash cabinetry complements the television console with Obechi wood surround and the stunning Spin Light glass bar top. The refrigerated wine room set behind glass is one of the many highlights. Its diagonal glass shelves intersect in asymmetric lines to create a work of patterned art. This too was designed by Dreier as an exquisite, one-of-a-kind way of displaying the finest wines of the world.
Indoor/outdoor living flows with ease as custom-designed furnishings emulate the beautiful arcs of the space. Their textural fabrics are soft to the touch, inviting you to relax and take in the surroundings. "We purposely design the interior and exterior televisions and fireplaces on an angle, so that even if next to each other your eye will define them as two separate spaces. When the glass doors between them are opened, the perception is a purely seamless transition as if the doors never existed," Dreier explains.
"The outdoor living room is a natural extension of the living space, incorporating grilling, dining and entertaining with a stainless steel water feature/spa that you won't find in many Penthouses, particularly since these features require significant engineering due to weight. Penthouse owners will enjoy the sculpted spa as creating part of the ambiance and relaxation of their environment."
Penthouse 301 features 6,009 sf of interior living, plus 1,922 sf of entertainment patio that wraps around the outside of the Penthouse offering spectacular views. Geometric shapes and organic materials define the custom furniture and cabinetry. The finest fabrics and materials are used inside, while outside, handsomely designed and constructed furnishings durably withstand all four seasons. A fireplace lounge with flat-screen television, outdoor cooking deck and dining area enjoy unobstructed views of the golf course, mountains, and valley below.
Chefs will find culinary inspiration in this impressive kitchen with multiple Antarctica Cream granite islands. The intricate glass detail from the bar tops the morning bar with the variations in veneered cabinetry blend beautifully with the high-performance stainless-steel appliances and hood. "I can imagine large family dinners being cooked in this kitchen," muses Dreier. "And enjoyed at the dining table as everyone admires the vibrant scene of the lights of the valley."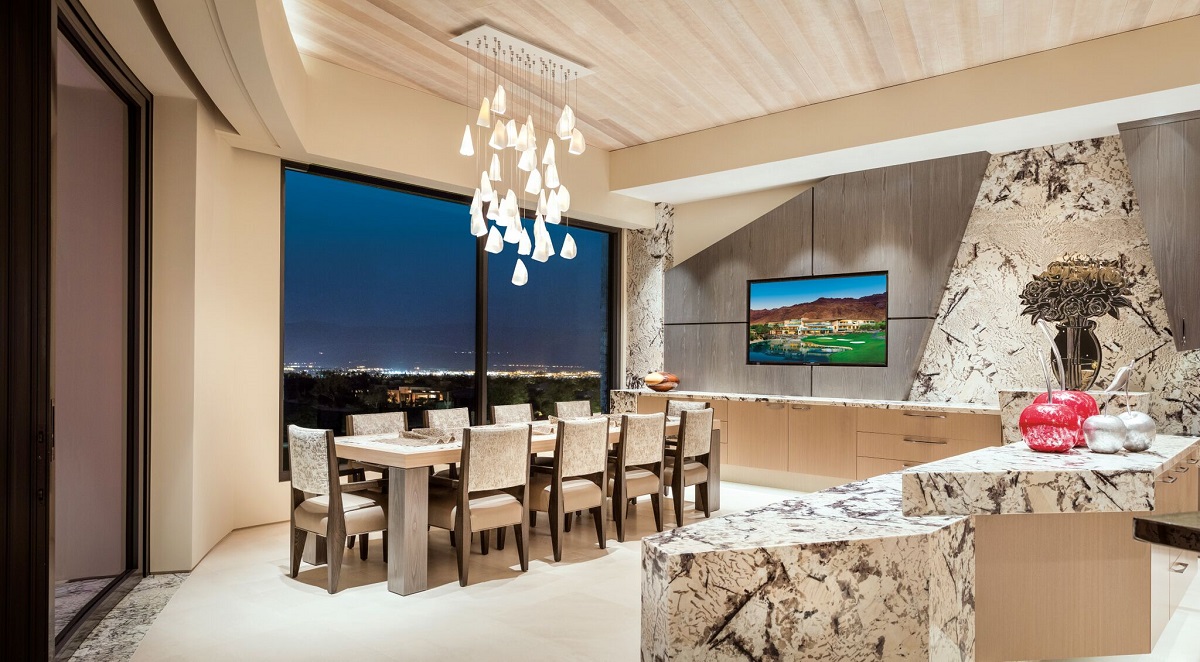 Thoughtfully placed, museum-quality artwork by David Austin of Austin Art Projects enhances the architectural lines and graces the living spaces. "David and I have collaborated for over 20 years," Dreier notes. "We have a rhythm as to how valuable art should be placed to give each space personality and interest."
Relish the quiet moments while taking in the surrounding Santa Rosa Mountain range. Persiano Limestone flooring etched with Antarctica Cream granite matches the sculpted ceiling above inviting you into this extraordinary Penthouse.
A fireplace lounge with flat-screen television combines with an outdoor kitchen – all with unobstructed views of the golf course, mountains, and valley below.
The master suite features luxurious linens, diamond-crusted artwork, custom furnishings, and a cozy fireplace sitting area. "We added on to the patio terrace by wrapping a walkway around to the master bath for ease access from spa to bath," shares Dreier. "Also, we wanted you to really soak in the views from all angles – from watching the sunrise pinks and oranges cast on Eisenhower Mountain to watching the sunset above the western ridgeline."
Once you step into the master bath, besides appreciating the exquisite His and Her spaces, you'll succumb to the awesome panorama of Santa Rosa Mountains. The curved panel of windows seems to provide a private, scenic view of what could be a great national park. "This Penthouse is designed for someone who appreciates light. It is private with indoor/ outdoor spaces, perfect for those who love to have family and guests stay with them," adds Dreier. "All three guest suites are unique, spacious, and fully appointed with designer bedding, sittings areas, full baths, walk-in closets and private terraces with their own special views."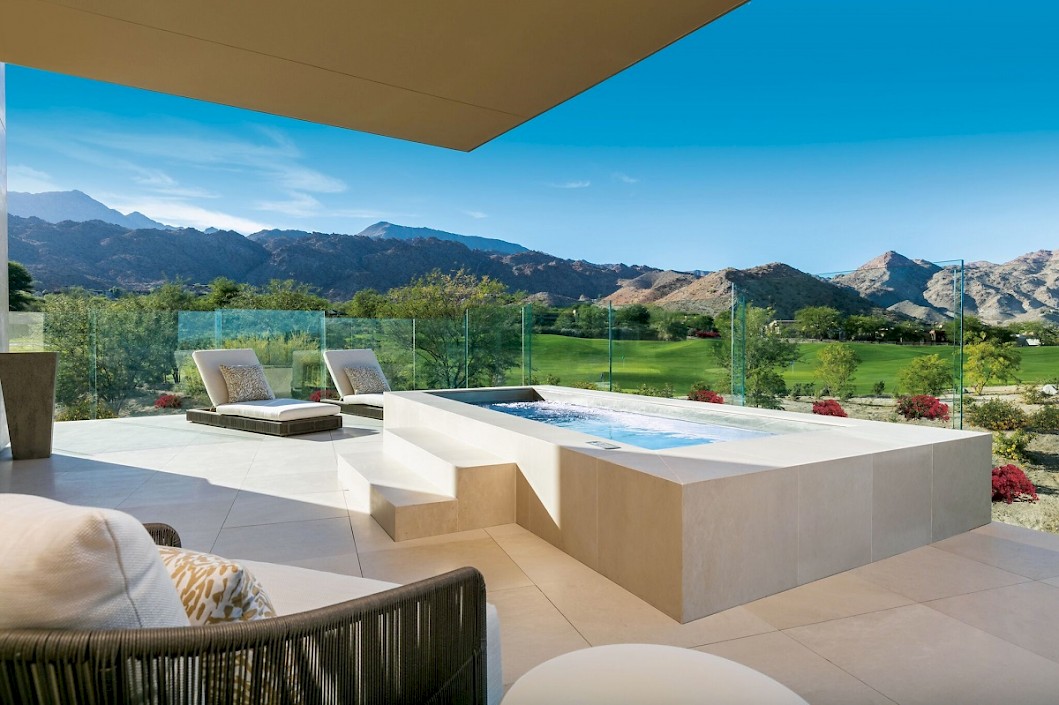 PENTHOUSE 302
Chuck and Stacie Mathewson are enjoying the lifestyle of Penthouse living. After owning multiple large homes in BIGHORN, the couple really loved the idea of focusing on their love of travel and spending more time together, rather than maintaining a large estate with grounds and upkeep.
"It's like living in a luxurious New York Penthouse with everything we need just a quick elevator ride away, but it's in the desert and Club that we love," describes Chuck. "I have the guys over weekly to play cards in my bridge room, we can order food to be delivered up or wander down to the Men's Locker Room at any moment. Our friends can't believe how spectacular our Penthouse is; we've lived everywhere in the desert and this fits our wants and needs to a tee."
The Mathewson's Penthouse is a perfect combination of handsome woods and feminine sparkle, thoughtfully "designed and built with the help of our good friend David McFarland along with Blackbird Interiors," shares Stacie. "We are absolutely in love with our new Penthouse! The spacious open floorplan and all the designer touches reflect who we are together. I love the dual master suites, comfortable great room and simply sitting around the bar with our friends. We are at the center of everything, yet we have complete privacy and the most spectacular views at BIGHORN. An elevator ride down and I'm steps away from the Spa & Wellness Center and the Dog Park. We can call the Penthouse Concierge and have access to anything we need. We couldn't be happier."
Owners Chuck & Stacie Mathewson
PENTHOUSE 303
As described by Dreier: "'Wow!' That's the reaction we wanted when you stepped out of the elevator and into this two-story Penthouse. So we designed a dynamic stairway of striking Italian granite. It's such a strong architectural element that you know you're walking into something special. The stairway and a unique cantilevered bridge above it surround an inviting bar and lounge for conversation, cocktails, or cards. It's a great space for watching a game or enjoying company."
"We also created movement in the design by incorporating indirect lighting down the length of the cantilevered bridge and by mirroring the bridge and floor. The lines naturally draw your eye towards the impeccable views of valley. The soaring 21-foot clear cedar ceilings, accentuated by the custom Venetian plaster bridge, beautiful Crema Pya limestone flooring and abundant glass are breathtaking. The combination creates a wonderfully spacious and serene environment for the owner to enjoy."
"We carried the signature granite into the fireplace wall and kitchen as well. The veins in the Italian granite have so many underlying tones of colors and gems with striking black strokes, as if they were hand-painted. These are the most sensational pieces of granite that I've seen in many years! We took the stone a step further and made it sculptural. Then we polished the horizontal surface and leathered the vertical surfaces, creating the next layer of sophistication. The process was not easy. Grinding the stone to create the curves is a laborious process on craftsmen and equipment, but the result is stunning."
The Italian granite stairway in the 6,790 sf Penthouse is right out of a Hollywood spectacular where any minute the star/owner will make their grand entrance.
"Besides the stairway we wanted to have an exciting means of accessing the upstairs, second Master Suite and Mezzanine Office. So, within a few steps of the lounge and Great Room is a clear, cylindrical elevator, reminiscent of the futuristic Jetsons. It's enjoyable to look around as you're being transported up to the second level; immediately you feel the volume of space in this home. Stepping out onto the bridge and looking down at the lounge, Great Room and out to the view, the space is so bright. It gives you another perspective and even higher level of appreciation for the design."
"The bridge area is a very exciting space," Dreier notes. "When on it, it makes you feel like you're floating through space; it's really dynamic."
Indoor/outdoor living is seamless as Dreier's design talent creates a luxurious outdoor living space, featuring dual sculpted dining tables, a soft seating ensemble in front of the fireplace with flat screen TV. All in proximity to the barbeque center and stainless steel spa. This is truly luxurious outdoor living with spectacular views.
Thoughtfully selected art from Austin Art Projects and custom furnishings designed by Dreier fill the home, incorporating soft taupes and greys, inviting in the natural light, and blending organically next to the strong striking angles and hand-selected natural granite. "Everything is custom, drawn from the curves in the floorplan. The sofa is 20-feet-long, designed with a refined fabric and accompanied by strong elements allowing your eye to pause as you would a piece of art," he says.
"We designed this home for owners who love to entertain and who love a bit of drama. The view plays into this design because you can't help but be drawn to it as you watch the sun dance across the Eisenhower Mountain and the San Gorgonio range. As you gaze out you'll smile at the richness of color of the fairway and lake and the desert's blue sky. Sunrise to sunset is beautiful and then you're awed by the dazzling lights of the valley below. It's the world's best reality show."
Any chef would appreciate the beauty of the gourmet kitchen with its stainless-steel appliances including dual ovens, microwave, 6-burner gas stone, cappuccino machine, full-size Subzero refrigerator and freezer with drawers plus two dishwashers. The combination of "Figured Flaked" veneer cabinetry with hardware by Manzoni and the Swept Silver metallic morning bar is artwork in itself.

The expansive entertainment patio features a barbecue center, dining and seating options, oversized spa, fireplace and picturesque views.
The downstairs master suite features an original work by Paul Villinksi. Upstairs master suite features palatial bath, walk-in boutique-style closet, private patio deck and dynamic office.
"We designed two master suites for this home that mirror each other in amenities and we selected and placed art to define each one's personality. The downstairs master hosts new work from Paul Villinski in which his signature butterflies are taking flight out of a classic gilt frame. As a breeze flows through the room, their wings softly respond. We also developed a special opaque accent of 3-Form Swept Silver, a laminated glass that not only adds an artistic feature but also brings natural light into the shower. This specialized glass lends to the feeling of being in an outdoor shower of absolute privacy. Backlighting the Vanilla Onyx vanities added additional luxury to the spa-inspired tub and shower."
Ascending the staircase to the upper level master suite and study, you will also discover another layer of design as the simplicity of the bridge allows you to float above the living space. "At the top of the stairway, the study area overlooking the Great Room is one of my favorite moments in the Penthouse," observes Dreier. "The bridge is a piece of art as it interacts so well with the space. It's a really fun space to spend time in."
Also off the bridge is the very private, upstairs master suite. Its backlit fireplace wall, pendant lighting, intimate seating area and outdoor deck create a perfect setting for enjoying the 4-story views of fairway, mountains, and valley that lie before you. As Dreier points out, "Just when you thought the views couldn't get any better, you're presented with this – another 'Wow!"
There's more to this amazing residence including a main-level fully appointed private Guest Suite with spacious bath of Scorpio marble vanities and shower. Accessed through curved sliding glass doors is a surprise patio solarium – perfect for stargazing and movie watching… at the same time. The backlit onyx Powder Room is beautiful and perfectly complements the rest of the residence. This Penthouse will amaze owners forever.
PENTHOUSE 304
"I believe Penthouse 304 to have the most natural light and some of the best views from the Penthouse Collection," says Dreier. The 6,709sf of this Penthouse is purposefully left as a "shell" which would allow a discerning buyer to customize the interior design; however, Dreier believes he has a design that will capture the imagination of even the most discerning client. Call 800-551-5578 for a private tour.