Piercing the sky and pointing to the heavens, the steep roofline on the north side of BIGHORN's new 80,000 sf Clubhouse sweeps upward toward the Santa Rosa Mountains in a bold gesture of confidence and optimism. The compelling architecture is a modern statement of beauty, quality and utility. As the centerpiece of a Club known for big dreams, big hearts, and self-made success, the smooth, dramatic lines of the Clubhouse stretch to the horizon creating BIGHORN's new iconic skyline and setting a new standard for Club amenities.
When construction began in July 2016 there was no shortage of those doubting that the new Clubhouse would be done in one season, especially a building of such complexity and expected quality. This only emboldened BIGHORN's visionary Chairman, R.D. Hubbard, who has spent over 20 years committing himself to developing BIGHORN into an extraordinary, world-class community where nothing is impossible. Once again, he and a dedicated team succeeded and proved skeptics wrong by opening BIGHORN's latest and grandest innovation on November 4, 2017 to the delight and celebration of its Members. This new Clubhouse is like no other. It is the pinnacle of what a modern Clubhouse should be creating a lasting legacy and enjoyment for Members and guests well into the future.
How Did We Get Here? The Beginning & Making a Statement
This dream began in February 2015, when Hubbard met with BIGHORN President Carl Cardinalli and told him, "We are going to build a new Clubhouse." Cardinalli asked, "Remodel?" To which Hubbard responded, "No, a new Clubhouse." And then he said, "We can't be without a Clubhouse for more than one season, so it has to be completed by November 2017."
The original Clubhouse, built in 1992 for the first of four Skins Game hosted by BIGHORN, was constructed for a Membership of 300 and designed in a more traditional style which didn't optimize the site's incredible valley and mountain views. After BIGHORN acquired and developed the Canyons, increased its intended Membership to 550, and completed nine major remodels of the Clubhouse in an effort to meet the changing demands of Membership, it was time for a change.
The Clubhouse, as a remnant of a bygone day, fell short of BIGHORN's standard of excellence for cutting-edge amenities relevant for today's Members. In an unprecedentedact of forward thinking, BIGHORN became the only known Club at the pinnacle of its success to raze its Clubhouse and build anew for the benefit and best interests of its Members and not out of necessity because of a catastrophic event.
"We have a campus of dedicated buildings whose functions integrate with the lifestyle of our Members – the Spa & Wellness Center, The Marketplace, the Canyons Steak House, etc.," shares Cardinalli. "As we grew in Members, amenities, services, and events, we made accommodations within the facilities; but we needed more. Leadership knew that what was built before could be built far better. In the process, the new Clubhouse would address deficiencies in the old and meet the demands of a growing Membership and changing lifestyles."
BIGHORN has two courses, a full campus of amenities on the Mountains and Canyons sides, and produces over 350 Member and private events in a season. With over 500 Members, it was time to think bigger. Groundbreaking ideas are commonplace at BIGHORN. They have been foundational and a way-oflife approach since R.D. Hubbard and 20 pioneering Members purchased BIGHORN in 1996.
A leading community recognized the world over for a visionary commitment to progress and excellence, it has never rested on its laurels or been concerned about what other clubs are doing. For two decades, Chairman R.D. Hubbard's outside-the-box perspectives have shunned the status quo and continually shaped a future that offers the ultimate lifestyle for Members.
On the verge of its 20th season, California's "Innovation Club" was about to strengthen its advantage with plans for a new Clubhouse unlike any other. But, in cutting-edge BIGHORN fashion, there was a twist. The new Clubhouse would incorporate four 5,000+ sf luxury Penthouses for an owner seeking the ultimate in concierge lifestyle. Not only do the Penthouses offer style, convenience and prestige, but they also help defray cost of the new Clubhouse. This phenomenal residential aspect is just another example of BIGHORN's leadership in being one of the most innovative communities in the world.
Mission Possible
With a mission to build a Clubhouse over two summers and one season, just 16 months from start to finish, Cardinalli quickly researched some of the top Clubhouse architectural firms and made calls to trusted friends in the construction industry. He reached out to four leading architecture firms, all with incredible pedigree and multiple awards for excellence. Once he explained the scope of the project and its timing, he offered them the chance to tour BIGHORN in March. Each one was interested and intrigued. After touring BIGHORN and its amenities, walking the original Clubhouse and meeting with Hubbard and Cardinalli, all four at the suggestion of Hubbard agreed to submit a design on spec – virtually unheard of in today's industry. They appreciated the incredible opportunity at stake and went all out in competing for it. "I was impressed and excited by the firms' level of interest," shares Cardinalli. "They saw into the future and understood what we were trying to achieve just as much as we did. One of the firms even brought a team on campus for a week, really trying to get a feel for the place. Daily they animated their presentation based on their observations and comments from us."
First Impressions
The future BIGHORN Clubhouse architect, John Sather, A.I.A. Senior Partner of Swaback Partners of Scottsdale, Ariz., and multi-award winner of Clubhouse of the Year by Golf Inc. Magazine, recalls his first phone call from Cardinalli. "It was out of the blue. When I receive calls like that, I am always intrigued by the design adventure it might lead to. Needless to say, this design adventure was unlike any before!" Sather and his Design Partner Brent Harris remember driving through BIGHORN's front gate and meeting John Standish, a Privacy Officer of ten years. "He welcomed us, knew who we were here to see, and what we were about to experience. We affectionately refer to him as the 'Director of First Impressions' because he set the standard for the level of service we were about to experience. Years later I still remember that conversation in detail."
Harris adds, "BIGHORN is so well known in the club industry for its incredible collection of homes and accomplished Membership. The grounds are so meticulously cared for that we weren't sure what we would find behind the doors of the old Clubhouse. As we experienced the old format of The Pour House restaurant, locker rooms, and dining room, and saw the tremendous views that should have been capitalized on, our imaginations ran away with casting the first few lines of design. We saw that we needed to create a winning design, reimagining a place that was a celebration of nature, of an exceptional community, and that would be a legacy for Mr. Hubbard and the Team who make BIGHORN such a great place. It was important for Swaback Partners to live up to the extraordinary reputation and the high standards of excellence for which BIGHORN is known."
"From the first moment I met Mr. Hubbard," adds Sather, "I knew I was part of something really spectacular. He was so confident in what could be achieved with the opportunity. I knew that this would be a project to which I could dedicate all of my creative energy and that it would all be rewarded."
In April, Hubbard and Cardinalli met with each of the firms to review their designs. "Right away we knew Swaback Partners had IT!" said Hubbard. "They understood the timeless design, the functionality, and that we wanted to have last for more than 20 years. They understood the vision of where we wanted to take BIGHORN, and they understood the importance of listening to what our Membership wanted in terms of unique opportunities for their families."
"Because the project was so unique and different, our presentation style was new and different," adds Harris. "We pride ourselves on never duplicating the same design and we took it to heart even changing our style of designing our renderings. We took a leap of faith knowing this was an extra special project."
Sather didn't want BIGHORN's Clubhouse to be like anywhere else "because the Membership is unlike anywhere else," he explains. "BIGHORN's successful Membership is open to bold, new ideas while also wanting the downtime casual feel that comes with enjoying a vacation The inviting warmth, sophisticated design, and organic materials embrace Members and their families making them feel like they are home. We think of the Clubhouse as the gathering place that blurs the lines of art and architecture becoming one with great friends, food, wine and celebrating life together."
"The desert contemporary look of the new Clubhouse employs a breathtaking use of space and light to blend timeless style with new state-of-theart amenities. The new Clubhouse is positioned to deftly incorporate all of the surrounding vistas and offer a 'life after golf' component. Because the Clubhouse is as much about living, playing, and entertaining as it is about enjoying a spectacular game of golf."
Swaback Partners
Designing BIGHORN's Clubhouse took tremendous vision and talent and Swaback Partners excelled in their innovative design. "We wanted to embrace the character of the surroundings and create awe-inspiring design that moves the building forward, celebrating the panoramic mountain and down-valley views," shares John Sather, AIA, AICP. "We envisioned a seamless blend of indoor/ outdoor living with an organic arc that welcomes you into the space, almost embracing you into the relaxed, fun, utopian lifestyle beyond." Sather has been involved in virtually all of the firm's award-winning community design and architectural projects for over 35 years.
Swaback Partners Brent Harris and John Sather.

Game On
In May 2015, at the direction of Hubbard, Cardinalli thanked all of the firms for their incredible work and called Sather to tell him that Swaback had won the project. "We were elated!" shares Sather, "BIGHORN has such a great reputation, and we were so honored that we were going to be able design a piece of architecture in a city and in a community where architecture is so respected."
"Given the tremendous history of BIGHORN, it is a complete honor to work on such an innovative project. The Membership is so well-respected and accomplished that I was humbled to present our plans and be given this exciting opportunity. BIGHORN's culture is like no other in that it has a fearless leader in R.D. Hubbard who is straightforward and challenges us to do our finest work. As an architect that is music to our ears. He has brought us to a place where we didn't know we could go, and we have excelled past our own limits. BIGHORN knows itself and its Membership and it knows where it wants to go!"
After winning the project, Swaback Partners jumped right in. "Knowing we had seven months before we presented to the Membership and 11 months before demolition, we were on a crunch to execute the design and functionality while putting some of the finishes on hold so we could work them out as we constructed the base," says Harris.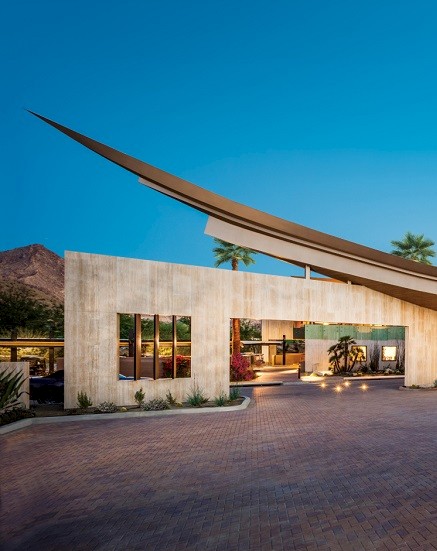 "To say we had a few sleepless nights would be an understatement," Sather adds. "We are a dedicated group, but the schedule was daunting. Every time we thought we could not achieve the deadline, Harris would look and me and say, 'That is not an option. Buck up and let's push on!' I think you might say we were in the zone as we drew at a remarkable speed. We pulled out all the stops. My team knew that this would be a legacy project not just for Mr. Hubbard and the BIGHORN Team, but for us as well. You realize in those times that extraordinary efforts are called for. The project was so good that we had no trouble giving it our all."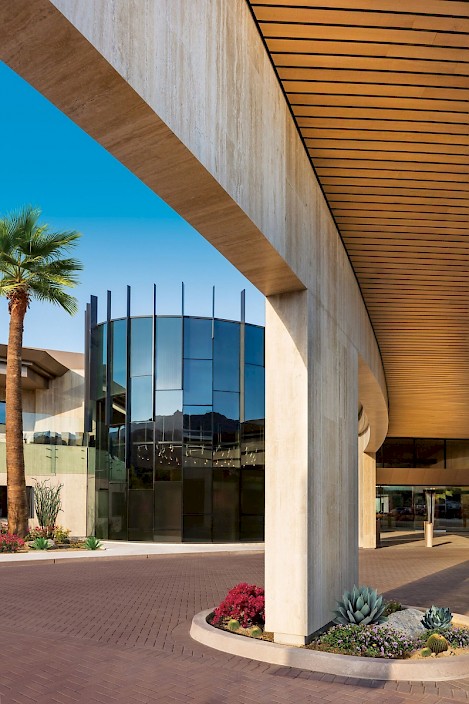 Revved & Ready
As Swaback cast their design, Chairman Hubbard called longtime friend Warner Lusardi of Lusardi Construction, a construction firm renowned for uncompromised precision and outstanding results. "I told him, 'Warner, I am not bidding this project to anyone else. I know you are the best and this project is going to be challenging. You give us the best possible price and we'll get started. We begin demolishing the current Clubhouse in 11 months.'" "That's not a phone conversation you receive every day," shares Cardinalli. "To be selected for an enormous project such as this without going out to bid is unheard of. But knowing Lusardi's reputation and having worked together on another expansive project on property, (the project was never constructed) we knew they were the only ones who could do it."
"I have known R.D. since the 1980s. His achievements and reputation are legion and continue to gain high praise," says Warner C. Lusardi, Owner. "More importantly, he is known as a 'hand-shake man,' which we respect highly and is why we wanted to build BIGHORN's Clubhouse."
"Asked to be a part of a team to create such a world-class facility was a tremendous honor," said Lusardi CEO, Scott Free. "Especially having the confidence in us to deliver such a complex building in an incredibly short time with the entire Membership watching and counting on us, not to mention the whole Coachella Valley, while everyone was saying it couldn't be done. This was an experience I will never forget. Working with the BIGHORN team was like no other job we've ever done. Mr. Hubbard gave a clear vision of what he wanted and when (November 1) and Cardinalli was a master of creating that vision, making decisions and giving us all of the information we needed to make it happen. It was a total team effort." Lusardi Vice President Nick Novak adds, "Sixteen months is an aggressive time frame to say the least! I believe no one except our team thought it could be done. And truthfully, had I really understood the scale, level of detail, and amount of work to be put in place in such a tight time frame, at the beginning of the project, I may have said, "that's impossible!" In other words, we did the impossible!"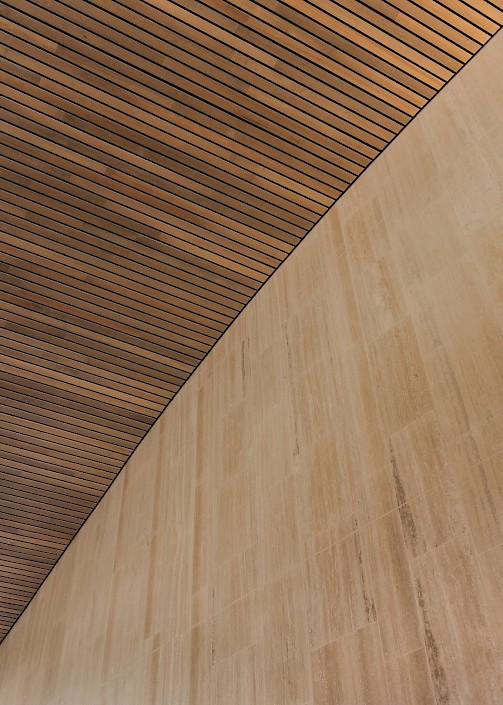 Lusardi Construction
No doubt Lusardi Construction had what it takes for the job given its legacy of 54 years of focus, tenacity, and excellence dedicated to serving client needs. Lusardi's clients always get a highly competitive, responsible contractor dedicated to providing value engineering, qualified superior in-house craftsmanship, capable and responsive subcontractors, and superior quality of the final product. Lusardi approached BIGHORN like it has every project, striving to deliver on budget, on time, and with the utmost quality, and it delivered. Lusardi's consistent performance over decades proved its leadership role in the industry which was fully evident at BIGHORN.
"Lusardi was on board from design concept through working drawings, well before any construction. Their contributions were invaluable. It was a great pleasure to work with such a dedicated team of talented, hardworking professionals who from the beginning lived up to the project's motto, 'Whatever it takes,' " praises Cardinalli. The Lusardi Team included CEO Scott Free, Vice President Nick Novak, Superintendent Lance Rieman, Project Engineer Randy Cordova, Project Manager Tyler Molesworth, and Assistant Project Manager Geir Phillips, Planning Manager Mike Ramsey, Assistant Project Manager Ryan O'Connor, all under the leadership of Warner Lusardi.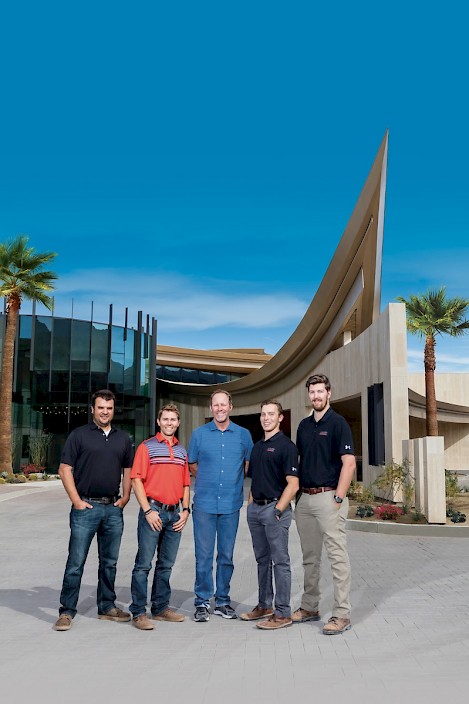 Ryan O'Connor, Nick Novak, Lance Rieman, Randy Cordova, and Geir Phillips

Designing a Lasting Impression
With Lusardi's uncompromising focus and attention to detail in tandem with Swaback's keen awareness of the new Clubhouse's role, the monumental project was underway. "Sather casts the vision on every design Swaback Partners does. Without him, it doesn't work," Harris adds "He wanted his design to reflect the great quality of the Membership. His combination of sincere passion and an eye for the final end of design blends beautifully with the process to make it happen.
"We are hired to create new Clubhouses for new communities all the time, so to tear down an existing Clubhouse and build a new one on the same footprint was an entirely new experience. Especially in a Club with a longevity of talent like BIGHORN – 35 team members with over 20+ years of experience. That's unheard of. Then you add in the detailed knowledge of the managers regarding what they need to perform their daily tasks and how they need to interact with Members, and we knew we had to do our best to combine the design with the ultimate functionality. It was a great collaborative effort."
"Most Clubhouses are built backwards looking," says Sather. "I wanted to create a sense of arrival: a mounting anticipation as you drive in with an unfolding crescendo at the end, which is the great view of the valley. Where a strong sense of openness pulls you through to the view, I sketched an outreaching of my arms, two opposing arcs, that pull you in through the building and out to the views." In constructing these two powerful arcs, a series of gridlines were laid out radially, emphasizing an organic casualness to create the perfect sense of contentment and relaxation and perfectly showcasing those panoramic vistas. "The building is almost a frame to the great view of the golf course, the mountains and the valley," he adds.
"It's rare and extremely bold what BIGHORN has done in building a Clubhouse," shares Sather. "To look forward and say we can be better and our success has no limits. That's an absolute dream! So many times, when working with a committee, the design gets so watered down because the committee is trying to please too many people. BIGHORN already knows it's the best and is growing and reaching toward the future!"

Dramatic Turn
In September 2015, Hubbard and Cardinalli visited Swaback Partners and met a potential interior designer. As the firm was presenting, the duo knew that this firm's approach wasn't going to resonate with Members and as they broke for an early lunch Hubbard told Cardinalli that they weren't it. He wanted Blackbird Interiors, a well-known Southern California firm whose principals had been Members at BIGHORN since 2005. Cardinalli called Blackbird Interiors partner Bob Call and asked him to be a part of history – and by the way, they would need a proposal and ideas in three days. Bob just laughed thinking it was a joke.
Kathy Blackbird shares, "We were so honored to be considered for such a dynamic project. We have had the opportunity to design a number of incredible private homes and even smaller commercial spaces, but nothing on this grand of a scale. So we knew it would be a challenge but also an exciting prospect: to create a look and feel that all of the Members would love.
"Blackbird Interiors was inspired by Swaback's design for the Clubhouse. "Sather's architecture was so creative and timeless that we wanted to create a design that would be relevant for the next two decades. We completed extensive research and dreamed big, deciding on a rich combination of metallics and organic materials that were soft to the touch. We also found some dynamic lighting elements that we wanted to showcase in the new Clubhouse." Hubbard and Cardinalli were impressed and confirmed they had the job.
Harris recalls, "Blackbird Interiors, Bob and Kathy, were nervous to accept another job. They had a full slate of work already, but as Hubbard and Cardinalli emphasized, they knew what BIGHORN Members really like – such a huge advantage to any designer. In reality, they had 500-plus clients to please and they rose to the occasion with their expertise and design sense. They deserve a lot of credit for the spectacular job they did." For 25 years, Blackbird Interiors has been passionate about personalized design that feels like home. They celebrate their clients' individuality by masterfully orchestrating materials, color, layers, and attention to the smallest details. In a portfolio that spans a variety of destinations and design styles, Blackbird has specialized in creating nurturing spaces that connect contemporary elegance with the natural world. They blend clean, structured design with warmth and comfort to provide a distinctively earthy impression that transcends classification.
Synergy
Cardinalli and General Manager Tony Ogrodnick met with the BIGHORN Directors and Managers in July. Cardinalli shared the conceptual Clubhouse plans and told the team to draw sketches of their respective work areas and inventory all of the furnishings and equipment they used in performing their jobs. They also asked the team to realistically picture what they would need to do in their jobs during the transition, how they would maintain the BIGHORN experience for one season, and what they would need in the new Clubhouse.
Ogrodnick compiled a separate team to research other clubs and what they experienced during a similar transition period. What they discovered was that BIGHORN was the only Club ever to tear down and rebuild without the excuse of fire or flood damage. "No one else, at the point of BIGHORN's historical prominence, had dared to dream of a new Clubhouse," explains Cardinalli. "We are one-of-a-kind!"
Architect John Sather responded to the unique flora of the desert and the majestic mountains that wrap around BIGHORN. "Your Santa Rosa Mountains are a rare environmental opportunity, then to combine it with the Coachella Valley views below and the beauty of your championship golf course, I was definitely inspired."
Ogrodnick also discovered that most clubs going through a transition saw a 40% loss in sales across the board. This discovery cemented the importance of completing the Club over 16 months because "Members will enjoy the campiness of the first season without a Clubhouse, but will tire of it by season two," he reasoned. He began to work with the Sales and Marketing teams, and the "Camp BIGHORN" upscale glamping theme was created for the 2016-2017 transitional season. New events and promotions were added while every department planned for the exciting new reality about to set in.
In order to make the transition most effective, all of the operations would move to the Canyons side of the campus, and the main restaurants and meeting areas would become the Golf House and the Canyons Steak House. As Mr. Hubbard and the management team looked closely at the Golf House, they knew it needed to be updated to keep the Membership happy and invested. Also, the Clubhouse pool would need to move to the Spa & Wellness Center and be available for the upcoming season. The same was true of building a new tennis court close to the Mountains Driving Range. In addition, plans were made to build a pickleball court to capitalize on the excitement of the game and provide a new amenity to the Members. Although this meant more work for the design and construction teams and a shorter timeline to complete these amenities, management was determined to make Camp BIGHORN a positive bridge to the big reveal of the Clubhouse and the new heart of BIGHORN.
To garner the Membership's excitement about the project, a Season 20 video was created which celebrated BIGHORN's growth over the past two decades under the leadership of R.D. Hubbard and the group of investors. The video which was shown at the November 2015 Welcome Home Party showcased candid interviews from long-time investors Jim Colbert, Jim Gagan and Robert Masterson, as well as testimonials from LPGA superstar Annika Sorenstam and from prominent Member and property owner Duane Hagadone. Members were captivated by the storyline, watching BIGHORN grow visually in front of their eyes. At the end, Masterson's delivered his now infamous line, "And we're not done yet!" Whereupon fireworks lit up the sky while images of the new Clubhouse were shown, sending chills up the spines of all who watched. The air was absolutely electric as Members knew they were about to embark on a magical ride.
Lasting Impressions
In December, the Members were invited for a design presentation by Swaback. Member Jim Colbert grabbed the microphone touting BIGHORN as a uniquely special Club
laden with a variety of unparalleled amenities. He enthusiastically expressed support to R.D. Hubbard for the new Clubhouse and handed him a check as his and his wife's contribution to the project. Applause filled the room and Members left even more excited about the future.
At the conclusion of the presentation a couple of Members came up to Hubbard and BIGHORN's management and said, "Because we live here, we never use our lockers. Could we have more space in the locker rooms?" So BIGHORN sent a survey and discovered that Members wanted more amenities and space, so fewer lockers were built. Also, a space on the first level was created for more indoor parties – an important design addition as the Club produces 350 events on campus each year. With seating and views for up to 200, "The Hub" was soon named affectionately after BIGHORN's Chairman.
BIGHORN Members overwhelmingly positive response to the overall design concept was a clear statement about Members' loyalty, happiness, and the direction to the new Clubhouse. Plans pushed ahead in full force and design was tweaked and retweaked. Lusardi began assembling their team and put together an extremely detailed project schedule. As the cherry on top of this magnificent structure, Cardinalli asked Guy Dreier to design the Penthouses.

Trendsetting
At the direction of Hubbard, the new Clubhouse would provide a fantastic, exclusive lifestyle experience by incorporating a very limited number of Penthouses. "It's an extraordinary idea – building the Penthouses," Sather muses. "Often I am looking within developments to find the perfect spot to build the Clubhouse. When I stood on BIGHORN's old Clubhouse roof and experienced the stellar views, I realized it is the natural spot for the evolution of the Penthouses. So when you add this to the spectacular building below, integrating these Penthouses into the architecture of the Club, these spaces begin to evolve and become a one-of-a kind residence."
That's exactly what Hubbard had in mind. Conceptually, BIGHORN's Clubhouse is as ambitious as the BIGHORN community as a whole and a particularly complex but very exciting innovation is the addition of the four Penthouses. This lifestyle opportunity would only be available to a fortunate very few. Each Penthouse residence would be completely unique – like a custom home built on one of BIGHORN's homesites, but within a one floor, private elevator ride of BIGHORNs legendary service. These homes are not your typical "condominium"; on the contrary, they range in area from approximately 5,200 sf to 6,800 sf and are of a quality and luxuriousness found in only the most exquisite residences in the world.
Not surprisingly, the Penthouse owner's "club" is already even more exclusive because only three remain available. The immediate interest and first purchase is an indication of the desirability of the one-of-a-kind nature of the unmatched setting, finishes, design, views, and immediate access to BIGHORN's concierge service.
Contemporary, Creative and Timeless
"An artist at work.", "Genius." These are a couple of ways clients, admirers, and people in design have described Guy Dreier. It's a part of the reason he was asked to design each of the Penthouses. His floorplans are worthy of the accolades and innumerable awards he's received both here and internationally for his imaginative design. His contemporary homes have graced the covers of such highly regarded magazines as Architectural Digest and Robb Report.
"My Penthouse design was inspired by the spectacular views the homeowners are going to enjoy," shares Guy Dreier, Founder of Guy Dreier Designs. "I have had incredible experiences with our clients living in these environments that have heavily influenced my design. The Penthouses offer a unique, peaceful, low stress, amenity-filled lifestyle combined with our signature sculptural architectural approach." The supreme advantage of these private Penthouses, besides an exquisite living environment? "Almost anything a Penthouse owner could want can be realized by a call to the Concierge. This is the ultimate in concierge living," Cardinalli says.
Making the Move
As preparations were underway for a May demolition, Members' excitement grew. After a jam-packed season of events, the Club threw one last party: a Demolition Party. The Pour House and Dining Room were filled with yellow hard hats, construction signs, and Sharpie markers encouraging Members to graffiti their parting words on the hallway walls where they wrote, "Thank you for the memories" and "See you in November 2017!" Members took their locker nameplates home and started packing belongings for the summer, while staff moved into their new trailers.
Work also began on the Golf House, preparing it for the Members and guests who would enjoy it on a much larger scale starting in November. By the time the first construction truck arrived, everyone was settled in their temporary homes. "It was an exhilarating moment watching the Clubhouse come down," shares Cardinalli who has been at BIGHORN for over 27 years. "The old Clubhouse served us well, but it was time for us to walk through the threshold of the future and set a new standard of excellence not only for our Members but for the entire Clubhouse world."
"By May 30th the Clubhouse was gone and all you saw was this beautiful view from the Spa & Wellness Center," remembers Ogrodnick. "At that point, I could almost envision the new Clubhouse before us and still being able to see the view from those same steps. The entire BIGHORN team was excited because we knew our efforts were going to make a significant impact." Over the summer, Lusardi did double duty not only concentrating on the Clubhouse but also completing the new amenities around the Spa and Fitness Center as well as revamping the Golf House.
Cardinalli and Ogrodnick brought in additional contractors and Blackbird Interiors to prepare the temporary facilities, expand the use of the Marketplace and glamorize the Golf House to become one of the focal points of the upcoming season.
As Ogrodnick reflected, "It was exhilarating juggling all these balls, making daily decisions, and trying to guess how Members would react – would they stay for the season or make other plans? We were banking on half of them staying and enjoying the new upgrades."
Change Order
Construction was in full swing, but within three weeks it was clear that design and construction had to be integrated to a greater degree if schedule and quality were to be achieved. Cardinalli called a mandatory three-day workshop for design, engineering and all the trades, using the aerobics studio at the Spa to master plan out the next 16 months. "In order to make this deadline, we knew we needed to bring everyone together, hash out a viable working schedule, make as many group decisions as possible, and get everyone committed to the project," says Cardinalli. At the end of the three days, Cardinalli invited the team to celebrate at The Vault and Lusardi had t-shirts for everyone that read, "Whatever It Takes!" The entire dynamic had changed and the trades were ready, willing, prepared, and excited to work together.
"Cardinalli has a way of bringing a team together," remarks Harris. "I have never seen a team of talent so worked up to achieve a common goal together." "It was amazing to see the impact the workshop had," adds Ogrodnick. "There was an extremely detailed plan that was constantly monitored every week in construction meetings with Harris on site two days per week."
Swaback Partners believes they found good fortune in being able to work with the incredible professionals that made up the teams at Lusardi Construction and Blackbird Interiors. Harris explains, "With a design as complex as it was, and never having worked together, we bonded immediately, respecting everyone's talent and ideas and knowing we were on a special mission from Mr. Hubbard to create a masterpiece. What we also created was a strong team of friends. We were all in this together, and I would recommend each of them to work on another project easily."
He continues, "Also, I have never worked with a city who was as forward-thinking or responsive as was the City of Palm Desert. The staff and council were really excited about the project, they understood its scope, and they planned ahead so we could continuously meet our scheduled timeline." "With Lusardi Construction, keeping the schedule was everything," notes Harris. "They really have an eye for talent and I would work with them again in a heartbeat.
There was no way that Novak or Free was going to have anything be late – they held people accountable and devised a top-notch team. Lance Reiman was the best superintendent I have ever had the pleasure of working alongside. And Randy Cordova, a recent graduate from Cal Poly San Luis Obispo and hometown boy from Palm Desert, was given the career opportunity of a lifetime as Project Engineer. I was really impressed by his tenacity and organization; he's going to be running Lusardi in 20 years." Sather adds, "Every person from every firm and company was so dedicated, so giving, and so respectful of each other – unlike any project in my 40-year career!"
Shining Moments
During the summer, Camp BIGHORN plans were underway to develop the "glamping" upscale vibe when it was decided that BIGHORN would vinyl wrap the temporary Golf Shop with a design of the front entry of the new Clubhouse to "Disneyize" the trailers. Other areas of the temporary facilities were wrapped with vibrant images of the golf courses and were used to create a bistro feel to the front of the Golf House. These along with numerous TVs, hanging lights, firepits, and additional dining for special occasions for hosting the largest groups on site created an exciting, fun atmosphere.
Bistro music nights with new bands and new outdoor family events were added. Web cams were installed at the Clubhouse construction site to keep the Members engaged in the riveting process.
"We created an excitement about the upcoming season. Reinventing the Golf House, and adding the new pool, tennis and pickleball areas, emphasized that Members weren't going to miss anything," says Ogrodnick. "We made it happen. We had 500 people return for Welcome Home Weekend. They were amazed at how clean everything was, how controlled the construction was, and how easily they could get around to their favorite activities and fitness classes. And they were thrilled at how the new Golf House had turned out – Members realized that it had the same views as the Canyons Steak House, but with the casualness of The Pour House. We had jumped the first hurdle!"
As Members were enjoying the Golf House with its outdoor terrace and bistro area, golf operations had mastered the new logistics, making it a breeze to get on and off the course. "Every department really outdid themselves and the Members noticed. They even began changing their plans so they could stay at BIGHORN all season," says Ogrodnick. "In fact, April and May 2017 were our best April and May months to date."
Raising the Beam
On January 3, 2017, BIGHORN celebrated a monumental construction
feat by placing a 110-foot long, 55,000-pound beam, spanning the top of the Clubhouse roof. One of the largest cranes of its kind, a 550-ton hydraulic crane, with a nearly 200-foot, 5-section full power boom, was shipped in by seven semi-trucks and assembled on the premises to install the crucial centerpiece of the Clubhouse roof. The assembly alone took nearly four hours before it was ready to lift the beam 40 feet in the air.
Of course, a viewing party was designed for Members to soak in the awesomeness of this feat. Cardinalli kept the rapt, 100-person crowd informed as the beam was lifted. Not a word was spoken as the beam adorned with a 10-foot-tall American flag went airborne, completed a 180-degree turn, and was lifted effortlessly into place. The crowd cheered as sparks flew and the beam was soldered and riveted into place. "This was an exciting day for BIGHORN and its Members," said Hubbard to the press. "Not only is the placement of this beam a significant milestone in the physical construction of the new Clubhouse, but in this year of celebrating 20 years of continued growth, it also symbolizes the stability of BIGHORN and the exciting future of this Club."
"This was the moment when I knew we were a part of something really special," shares Harris. "The sheer magnitude of the incredibly involved nature of this structure made it the most complicated feat of structural engineering I've seen, not to mention the arduous journey the beam had to make. Watching the workmen place the beam with perfect precision, and the group of Members viewing this incredible sight, it was a defining moment in which I realized its full importance. You could have put 10 different design teams together and you would have had 9 other potential outcomes, but it was this magical one that made the project perfection."
Building Character
Cardinalli underscores the difficulty of the construction side. "Since the Clubhouse is built on curves and radii, there are very few right angles anywhere in the building. Although this fundamental design element optimizes views and makes for a visually striking building, it also creates a very complicated structure which was extremely challenging to build." A surprising result was how this challenge elicited an enthusiastic "can do" attitude from everyone involved – and not just from managers
and supervisors. As Cardinalli relates, "One day, as I was making my rounds, I asked a framer about the difficulty of framing The Pour House banquette – which involves multiple walls, all curved, coming together in different planes. He said, 'It's really hard. But I love doing it because it's such a challenge. I don't get to do this every day!' To me, that's key: He seized the day, he challenged himself and used his talent, and felt good about himself. The end result is a beautiful, high-quality, unique environment for the Members and guests to enjoy."
To select the perfect materials, a 12' x 20' mock-up structure was constructed on which to install and construct elements of the building including various materials, stone tiles, sample fascia, the glass panel railing system, stairs, glazing, frames, paint, etc. Part of the exercise was not only to see the look, but how reconcile the joining of different materials and what effect the sun would have on color and reflectivity. Cardinalli shares the importance of getting these selections right, "Because of the uniqueness of the building the materials, colors, mass and form had to work in concert with one another to create a seamlessness where an observer is not distracted by its parts but only sees and appreciates the beauty of the whole.
The experience would start from the moment you first see the Clubhouse with its gorgeous, caramel-colored, imported travertine exterior so that had to be right. Everywhere you'd look we wanted you to be amazed, to see different aspects of the building in ever changing light. We wanted the scene to be dynamic. One you'd never tire of." Defining a roofline that terminates in impossibly sleek spires jutting into the sky is nearly 2,000 lineal feet of champagne-bronze metallic looking fascia. The travertine and fascia contrasting to blue sky background is dazzling but, in part because of the experimentation done on the mock-up structure. And not to be overlooked is the connection between the white Peruvian limestone floor that extends throughout the building to the travertine walls; this "marriage" is prevalent from your first steps under the porte cochère to the stairs leading to the Event Terrace. The bold walls and floor perfectly complement each other.
Two million pounds of structural steel, 1 million pounds of rebar, and 95,000 cubic feet of concrete have established the stretch and magnitude of the structure. The gleaming glass panels that act as "see-through" rails on patios and staircases distinctively reinforce the architecture while maintaining the building's impeccable views. Each glass panel weighing 450 pounds is a unique feature that provides both safety and functionality.
"Vertically, the Clubhouse's signature form is highlighted by the central roof structure located nearly 51 ft above the floor of the first level," shares Harris. "The shape is derived from a few selected radii combining to create an elevated line. The roof form, fascia profile, finish, and color develop an ever-evolving composition. No two vantage points result in the same presentation."
Swaback Partners created the unique design, but the collaboration of Swaback, Lusardi Construction, and Blackbird Interiors has been symphonic. "We are all accomplished designers and understand what's important for BIGHORN," shares Sather, "So we all gave our very best work while remaining a strong force together to complete the ultimate Clubhouse. We all played together like a piece of beautiful music, complementing each other's strengths to complete a spectacular symphony."
Just 16 short months transpired between tearing down the old and ringing in the new. A feat of unthinkable proportions, this luxurious new base camp of the BIGHORN campus materialized in November 2017 as promised with its statement-making architecture and design.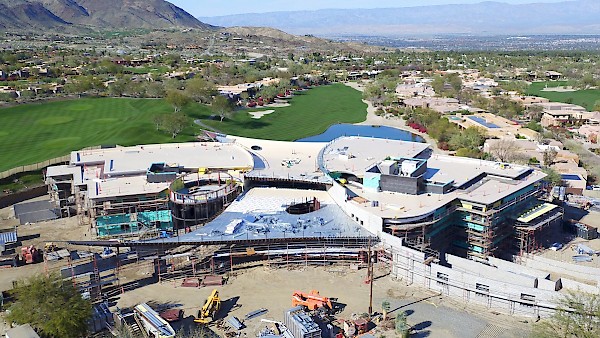 Career Beginning Moments
"Being a part of this project was a tremendous experience for me, especially being born and raised in Palm Desert," says Randy Cordova, Project Engineer with Lusardi Construction. "The complexity and speed of the Clubhouse was a oneof-a-kind experience, and both were affirmed when talking with the trades. People who have been in the industry for over 30 years would come up to me and say 'This is the most difficult project I have ever been on' and 'I have not seen anything like it.' I knew I was part of something special when we pulled down the scaffold at the northern end of the building. Looking back at the Clubhouse from the 18th green shows the enormity of the building, and seeing all the finishes in place was very fulfilling. As Harris liked to say, 'This is project gold!"
Blackbird Interior's youngest associate Max Call was also involved in the day-to-day dynamics as the design was coming together. "I have learned so much and am so honored to be a part of this spectacular project," shares Max. "The entire project was a once-in-a-lifetime experience and one I will never forget."
Heart & Soul
Once-in-a-lifetime experiences, in fact, are the new Clubhouse's heart and soul. Golf is only the beginning of the new life that awaits in and around the Clubhouse for Members. Contemporary styling on two levels employ a stunning use of light and space throughout this vibrant epicenter for social, culinary, and recreational pursuits.
Even on approach down the widened entry drive, the 80,000 sf Clubhouse is swathed in 70,000 sf of interior and exterior travertine imported from Portugal. This timeless material cut from a quarry a world away is ideally suited for expressing the smooth, contemporary architecture of the design and provides the perfect canvas for the play of light and shadow as the sun makes its way across the sky.
After a beautiful approach to the Clubhouse, you're welcomed by BIGHORN's Valet who will direct you across the limestone plaza of the porte cochère to the glass entry doors graced with handmade, custom designed handles fabricated by local metal smith, Kurt Jaeger of Jaeger Metal.
A sophisticated take on a desert contemporary palette prevails throughout the new Clubhouse where it is taken to a new level. Natural organic elements and clean lines blend with rich woods and materials, metallic accents, uniquely textured walls, sculptural lighting, and highlights of dramatic color. The limestone flooring imported from Peru in a soft white defines one's journey from entering under the porte cochère all the way to the stairs leading to the Hub and Event Terrace.
As Members enter the building, the living room becomes art. From an incredibly high ceiling, suspended floating cloud forms are fashioned like an Alexander Calder design with curvilinear lines that blend with unique materials and gorgeous limestone. "We wanted Members and guests to come into this Clubhouse and to be able to look in any direction and see something that is absolutely breathtaking," shares Cardinalli. A mere glance upward is all that's required. Providing a suggestion of movement and energy
across the ceiling is an undulating wave roof. Originally planned in stucco, during construction the decision was made to change the high ceiling to continuous light wood slats. The slats carry through the living room and out to The Pour House patio, creating warmth and refinement akin to the contemporary great room of a modern estate. "If this had been stucco, you would never have had the feel of this roof undulating," notes Cardinalli. "But once we decided on the wood slat ceiling all of that changed. The light wood adds a reflectivity as well, which enhances the wave action of this multifaceted ceiling."
Layers of talent, skill, vision, craftsmanship, and leadership went into transforming the location into a state-of-the-art destination – a gathering place the exceeds the imagination in ambiance, views, service, and variety of experience. Some might think of the new Pour House, from daybreak breakfast to late-night dining over endless views of the Mountains course 18th fairway, as a place where hundreds of people literally poured out the best of themselves to create a dining venue like no other.
The suspended darker toned "Calderesque leaves" complement the ceiling's gentle wave and provide hidden functionality for lighting, air-conditioning, audio systems and security for the main floor. Luxurious seating areas provide an instant reception of comfort and ease, whether meeting friends for dinner or relaxing with a newspaper before planning the day.
BIGHORN's Living Room transports you to another world – one where you can relax and be the real you. Its dynamic design and textures invite you to interact with friends and family.
All That Glitters
Once inside the Clubhouse, you can't resist wandering to the main stairwell to admire the dazzling 16-foot, hand-blown glass chandelier at its center. From across the living room, this exquisite cascading sculpture of light is a radiant beacon representing new beginnings and artistic triumph. British designer Sharon Marston is the international name behind this bespoke tour de force that unites highly technical fiber optics with splendidly produced hand-blown glass.
"Each one of its 6,600 individually blown glass leaves was hand tied onto those optic light strands," explains Cardinalli of the chandelier that commanded its own seat on an airplane from London. Accompanying it were three young women who work with Marston and have been trained to install even her most intricate designs. The three women had worked on the fixtures at Marston's London shop hand painting, partially assembling and preparing for shipment these incredible, one-of-a-kind fixtures. Cardinalli continues, "they installed the three-dimensional illuminated work of art over three 16-hour days. Two of the women had graduated from college just a year ago and all three had the temperament and focus of skilled artisans. They were incredible."
Whether ascending the grand stairwell to The Pour House or descending to The Hub, the luminous effect inspires pause. Some have remarked that the glass leaves look like a snowfall of downy feathers, while others see a school of fairytale fish illuminated in a nighttime sea. From any perspective, the fascinating juxtaposition of the light-as-air chandelier with the stairway's thick glass panel and stainless steel railings are a stroke of design genius. The sides shimmer in BIGHORN Champagne Bronze as Peruvian white limestone paves a distinguished path in either direction.
"I love the dark wood behind the chandelier in the stairwell," shares Blackbird. "When it was being installed, I knew it was the right choice. It adds so much drama. The chandelier with its white fiber optics and the clear glass just radiates off the dramatic wood behind it and gives it such presence. We couldn't have done it without Carl. He is at the center of the Clubhouse and he carried out words, advice, and wishes in such a dynamic way that he got the best work out of all of us. We are so proud to been selected and to have contributed to this ultimate Clubhouse."
The excitement that Members and the Clubhouse's design professionals alike share for details such as Marston's brilliant chandelier translates into staff enthusiasm. "After being relocated, every department is now moved in and everyone feels as if they've been here forever," Cardinalli remarks. "It feels comfortable because we vetted staff's needs and desires to provide for the ultimate Member experience."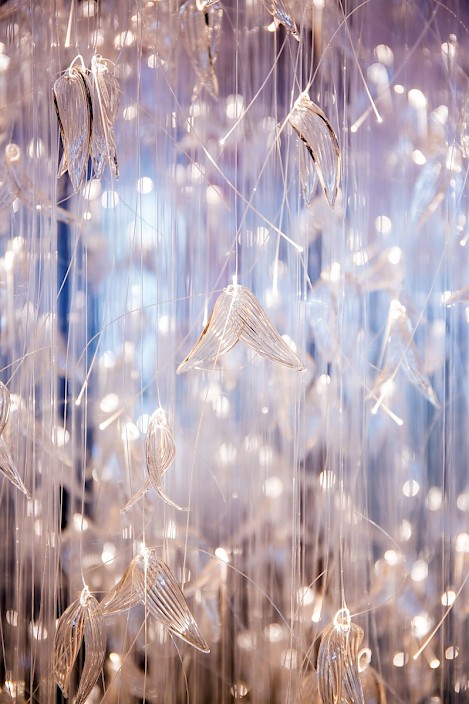 Blackbird Interiors
Kathy Blackbird and Bob Call, owners of Blackbird Interiors, are passionate about making everyone feel at home. For 28 years they have been committed to progressive commercial and residential design with a particular focus on creating environments conducive to relaxation and rejuvenation.
"Every project is a celebration of originality," says Kathy. "We focus on a clean, structured design which blends elements organically. Our goal in the Clubhouse was to masterfully orchestrate furniture, furnishings and art for every area, paying close attention to colors, materials and spacing – down to the finest details. Ultimately we wanted a space that provided members and guests with a distinctively warm and earthy experience; an experience that's both soothing and energizing. Our greatest reward is to see our Members smiling, relaxing and truly enjoying the beauty of their surroundings."
Bob Call appreciated the dynamic architecture of the building and how the spacious floorplan facilitated the exquisite views of the surroundings. As he observed, "The free-flowing floorplan created clean, sophisticated lines which fittingly allowed our design to blend harmoniously throughout the space and into the panoramas beyond."
Blackbird employed a palette of metallic and neutral tones highlighted by splashes of radiant color in materials, artwork and glass pieces. This rich blend creates the unique spaces and environments of the entry "living room", the eating and entertaining areas of The Pour House, the lounges and locker rooms, even the arterial hallways. All were brilliantly conceived and worked perfectly to complement and embellish the architecture.
From the original concept of the Clubhouse, the Golf Shop was seen as one of its prominent features. The shape and size of the Golf Shop would contribute to the building's balanced mass and unique blend of materials. Conceived as an oval, the stunning exterior skin of steel and glass reflects the surrounding sky and breathtaking mountains. From inside, the high ceiling with its suspended lighting rings, the sectioned panels of opaque glass and the high gloss curved interior wall make for a dramatic setting. The perfect space in which to give Members and guests a memorable shopping experience. From the moment a Member or guest enters the space and sees a panorama of mountains and ridgeline through a curved section of clear glass panels they unquestionably know this is like no other golf shop anywhere.
While on a trip to New York, Sather and his wife were walking along Madison Avenue looking into the boutiques. "My mind began creating, and I dreamed that their might be a Golf Shop like no other at BIGHORN," adds Sather. "This is not your dad's golf shop. We designed it to be a jewel, an element not to be missed!"
BIGHORN's Golf Shop has always been extraordinary. In fact, Golf World Magazine has awarded BIGHORN's Golf Shop Top 100 Golf Shop and Top 25 Private Shop in America for the past 17 years. The new Golf Shop is confidently expected to maintain that streak. In addition to having one of the largest demo centers in the country, the new Golf Shop now offers a dazzling new jewelry shop called the Jewel Box.
The Jewel Box is an extension of El Paseo's internationally recognized fine jeweler Leeds & Son. With over 70 years of excellence, Leeds & Son can provide clients with unique access to the highest quality brands in fine jewelry and watches. This exclusive boutique within a boutique invites Members to walk in and pull up a chair for a private jewelry consultation where BIGHORN Members have private access to source diamonds, gemstones, pearls and timepieces. The Jewel Box is yet another unique setting where Members can shop from curated pieces on hand or work with their personal BIGHORN jeweler to create the piece of their dreams for themselves or a loved one.
Modern Artistry
The wall behind the Concierge desk is so striking that it piques curiosity and awestruck appreciation. What appears as fragments of high gloss petrified wood from an ancient forest are actually stunning glass-like tiles created and handmade by decorative wall artist Terri Riesenman of Faux You Designs.
Cardinalli observes, "first her team has to work out on plan the design, material and finish. Then the finished product is executed at her shop where each piece is cut, numbered and hand painted; then the whole puzzle is brought to the site where it's assembled in-place. So, each piece – an artwork by itself – is placed on a curved surface precisely back into the original pattern. It was an astounding process to witness."
The uniqueness of the wall treatments throughout the Clubhouse has received high praise from Members who astounded by their originality have often been stopped in their tracks by their beauty. Each hand- finished wall is a testament to the collaboration and trusted relationship between Blackbird Interiors and Riesenman who worked closely together to create an interior environment so fitting for the extraordinary architecture of the building. Riesenman's creativity and artistry and her team's high degree of craftsmanship delivered these unique surfaces exclusively for BIGHORN.
In so many ways a modern Michelangelo, Terri's two decades of experience and her extensive collection of tools and paints combine to create some remarkable wall and ceiling treatments. Her team tracks and trail blazes the latest industry trends with extensive certification courses in Venetian plasters (including specialized training in Italy), decorative wall finishes, stencils, murals, wood graining, marbling, furniture finishes, cement finishes, gilding and metal finishes.
Her touchable, textural wall treatments range from a Venetian plaster waxed and buffed to a Rolls Royce shine to cubist walls with the rough-hewn look of fossils. One wall in the Ladies' Lounge has diamond-like sparkles that trail down like glistening, raindrops.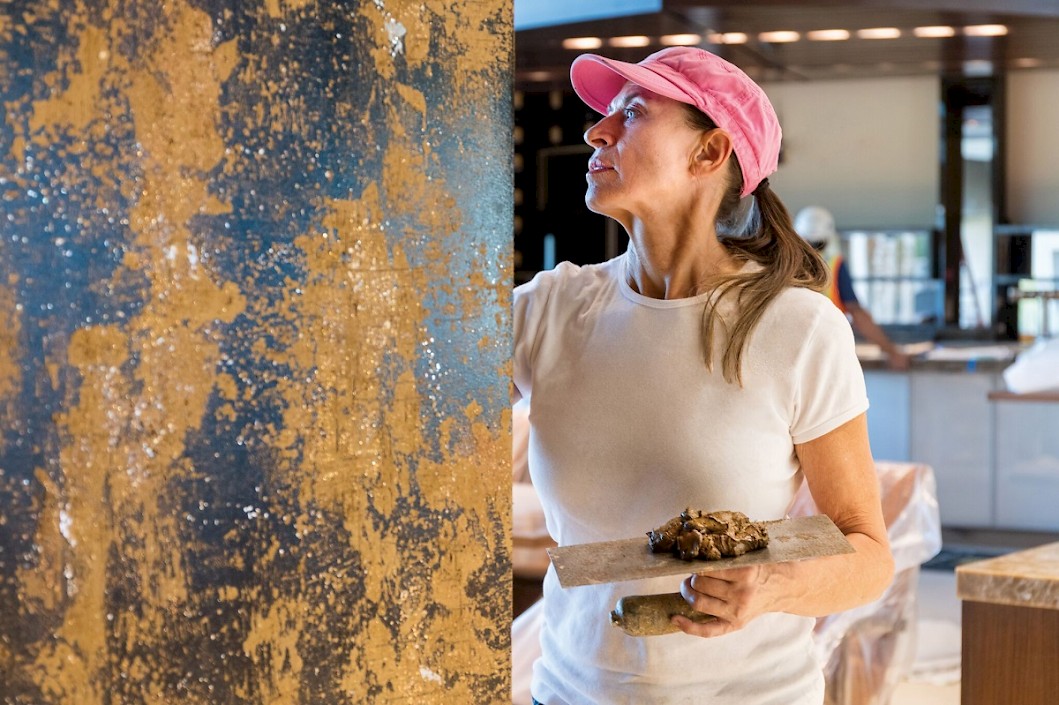 "I was most impressed by all 14 of Terri's custom wall treatments," shares Kathy Blackbird. "Her creativity and balance in her design inspired a lot of the choices we made. Her team's attention to detail caught every trade's attention and every day they wondered what she was going to do next!"
Each custom wall required an elaborate, multi-step process. The Clubhouse design team collaborated to perfect each wall, with adjustments made to ensure the desired effect in the changing light of day and to complement the interior's colors, textures, and furnishings. The process paid off in striking surfaces that rival museum-quality works of art.
The Pour House
The Pour House restaurant, known for its hip vibe and laid back atmosphere where casual to couture are welcomed, takes center stage in the new Clubhouse. It's difficult to tell whether one is dining indoors or out with views of the Coachella Valley, Shadow Hills and the 18th Hole so prevalent and accessible – and that's whether the wall of sliding glass panels is open or shut.
"We love the lack of formality of The Pour House," declares Sather. "The indoor/outdoor dining areas blur the line subtly so when you walk in the entrance you can enjoy everything that lies before you."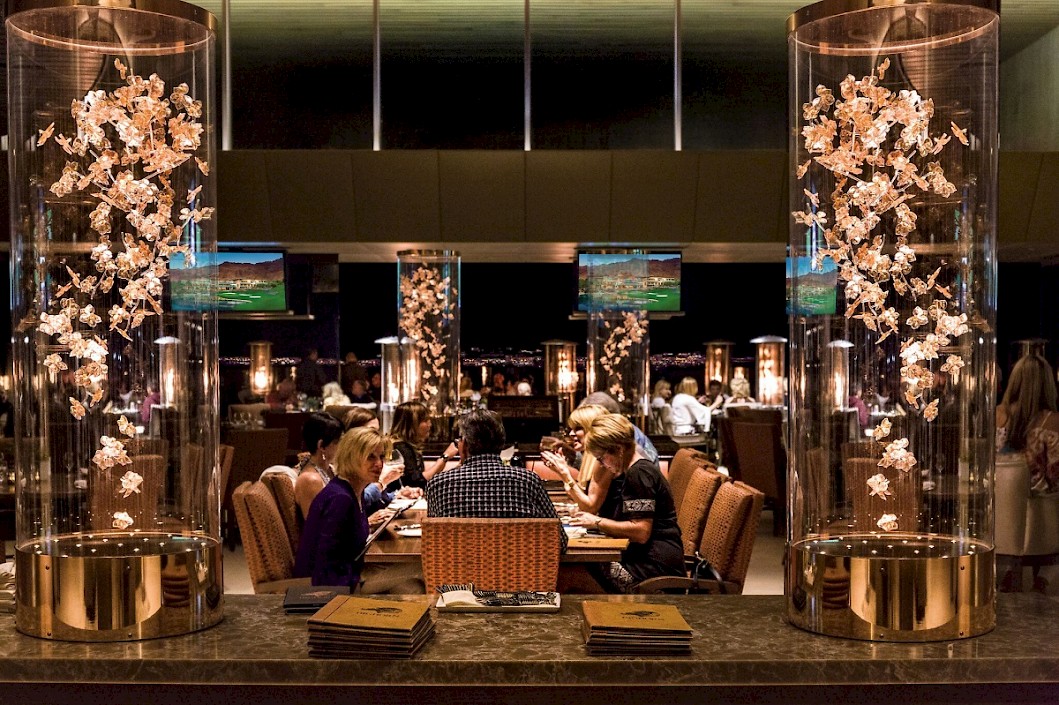 Blackbird's design talent is on full display in The Pour House with the use of copper, leathers, and textural fabrics, rich oiled walnut for a variety of chairs, tables, the "S" curved banquet and bar stools. The bar is a feature unto itself with its stunning backlit onyx panels, deep cocoa colored Cambria bar top and mirrored back bar with unique metal fins separating three of the multiple flat screen TVs throughout The Pour House. The environment is stunning and the perfect setting for an exciting dining experience with family and friends.
Defining the entry to The Pour House are two pairs of Sharon Marston custom Orchids; each pair of these cylindrical, sculptural lamps of hand blown glass orchids sit on two beautiful consoles custom designed by Blackbird Interiors.
"Sharon Marston created these cylinders on the same three-dimensional principal as the chandelier," Cardinalli says. "When you step back and look at the farthest two you'll notice they form a heart shape. They were purposefully placed that way so that you look through the heart to the mountains beyond. For us, BIGHORN feels like the heart of the valley."
"Her chandelier and light fixtures are simply spectacular," Blackbird admires. "They have a blend of organic metallic finishes and the light from within is really amazing. Sharon does not do tabletops at all, so they had to reengineer this orchid chandelier into something that's quite remarkable. It really comes alive at night when you see the glow from within and you notice the fine gold leaf that is hand-painted on every single flower."
Breakfast by sunrise is a new Pour House tradition at BIGHORN, as Members discover the most glorious views the Coachella Valley has to offer are right in their own backyard. Indoor/outdoor dining at tables of varying heights extends into the lunchtime hours after a yoga session or before an afternoon round on the adjacent greens. Past the layered reflective foil treatment of the curved banquet wall, and following the undulating lines of the wave ceiling, the fully open expanse inspires a stroll out to the patio. From every seat in the house diners are rewarded with panoramic views of mountains and valley below.
As the warm sun drops behind the midnight blue silhouette of the mountain range, The Pour House transforms into a hot spot for a sexy night "out on the town" – without ever leaving the BIGHORN gates. From iPad menus with photos of each menu selection to online ordering for delivery, The Pour House raises the bar on relaxed Club dining in a trend-savvy setting. Live music drifts across this inviting venue on Tuesday and Friday nights in an atmosphere that beckons romance or celebration or fun with friends.
"Every single thing you see in The Pour House and in every part of the Clubhouse, we studied, we discussed, and we decided," says Cardinalli. "But always with the outcome that your mind will take in all of the luxury, quality, consistency and nuance without you even realizing it. We don't expect scrutiny of the same details we belabored. We just want Members to think it's fantastic."
Ambiance at the new Pour House changes by the hour, as custom light sources dim and glow, setting just the right mood. While the dining venue's casual elegance seems effortless, the overall lighting scheme was tailored and tweaked through every phase of design and construction highlighted by the jaw-dropping Sharon Marston chandelier and sculptural Orchids.
What an Entrance!
A Rolls Royce gloss finish accentuates the Venetian plaster treatment on one wall of the main curved hallway as offset, angled panels of natural wood grace the other wall and ceiling. Backlighting the wood panels opposite the high gloss finish created an environment where the interplay of light and shadow was more akin to walking in an upscale gallery than a hallway.
The complete re-imagination of the BIGHORN Clubhouse experience naturally extended to the new Men's and Ladies' Locker Rooms. The opportunity to address the way Members today would use these traditional areas - from the number of lockers, to the size of card rooms, to the look and feel of vanities – was not lost on management or Members.
Each area was designed as an enclave of utility and comfort with the use of space that offers beautiful amenities and entertainment opportunities for a versatility of enjoyment. Both areas are distinctively special and overlook the 18th Green and Fairway with expansive views of the Coachella Valley, Shadow Hills and Eisenhower Mountain. Attendants in each area cater to Members' needs and desires and are there to offer personalized service. Private lockers are more like sleek, contemporary furniture with a keyless, individualized, electronically coded access system. Members can enjoy full menu or buffet dining in their respective lounges or outdoor patios with views from both.
The Men's Grille area has a distinctive full service bar, and easy accessibility to the patio, lockers, card rooms and TV lounge area. Smoking and Non-Smoking card rooms accommodate Member's preferences and are comfortably appointed for their intended purpose; the plush tables, chairs and setting will make for some spirited games.
The direction from Members of fewer lockers allowed more area for entertainment including a "game room" with large scale TV, billiards table and shuffleboard. Although TVs can be seen from almost any vantage point, a special viewing space was created with four posh recliners facing a 75" TV. This will no doubt be one of the Members' favorite hangouts especially for Monday Night Football or the final games of March Madness or a tight playoff or championship.
Access to cart staging and/or the golf course completes the intuitive design. Gentlemen finishing off their morning round and hungry for lunch or a light bite can leave the 18th Green and find direct access through the Men's Patio into the locker room without returning to cart staging.
Shine On!
The hallway to the Ladies' Locker Room dramatically showcases the backlit, wood-panel accents and high-gloss Rolls Royce wall that perfectly frame the very special silver leaf mixed media piece defining the Ladies' entrance – truly spectacular!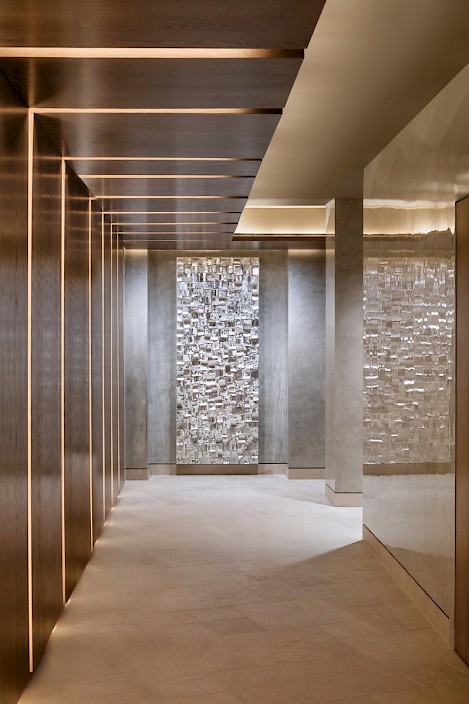 Ladies' Only
A stunning piece of art that dazzles with silver leaf on canvas marks the fabulous entrance to the Ladies' Locker Room. Its sophisticated glamour taps into a bit of feminine mystique that awaits for those who call this blissful sanctuary their own.
Luxe upholstered chairs beckon in the dining and card space that adjoins an outdoor patio. In the ready room, a rich, high-gloss finish radiates around lockers while rock candy pendant light fixtures hang like showy stalactites over the vanity. Nearby showers the size of a Manhattan pied-à-terre ensure a spa-like transition from a game of golf to her next fashionable adventure.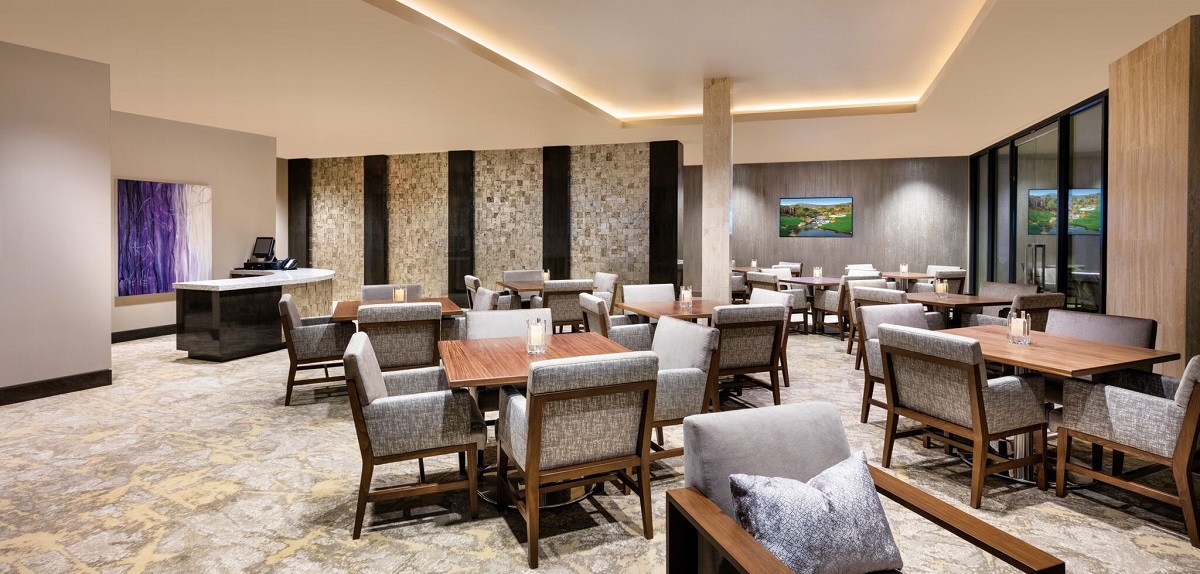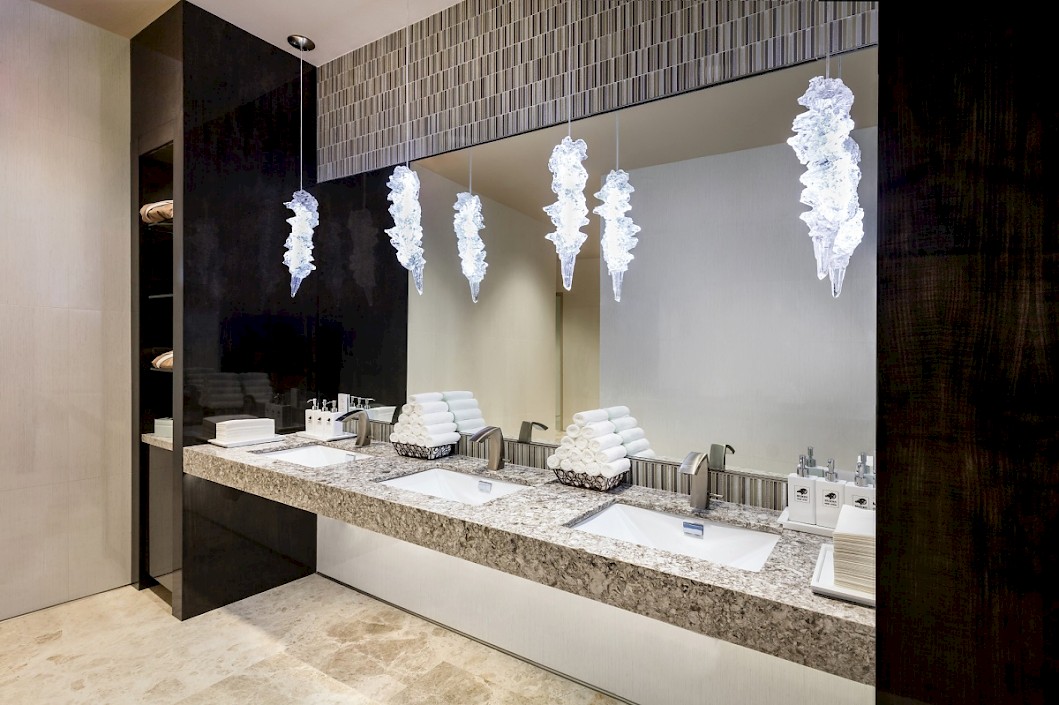 Fractured silver tile treatment complements the high-gloss walnut wood accents.
Setting the Stage
Like a large extended family, BIGHORN Members' fondest memories – the ones they recall and regale about most – occur when everyone is together in one place. Event spaces that transition from indoors to outdoors were artfully designed with those memories top of mind.
New event facilities, both indoor and outdoor, are venues for the Club's 100-plus in-season events serving up to 500 guests as well as accommodating an active Memberships' private parties of up to 200 people.
"We designed a large party space complete with a grand entry that has you walking into the middle of the crowd as you descend down artistic-shaped structures," expresses Sather. "You'll feel at home integrated with the architecture and serviced by premium staff."
For evening entertainment, the round event stage is set against a hot pink sky that hovers above a purple mountain majesty. A separate entrance whisks guests straight from the valet to the event spaces so you can instantly become the life of the party.
At the Crack of Dawn
On Saturday, November 4 at 7 a.m., BIGHORN opened the doors to its new home at a soft opening. "Members were walking around the outside by 6:30 a.m., peeking in the windows ready to check out their new digs," shares Ogrodnick. "By 7 a.m., at least forty people were walking through with their jaws open in wonder saying, 'Wow!' at every turn. Our staff was busy giving tours all day as Members delighted in discovering all the new amenities. By 9 a.m., The Pour House was packed with breakfast goers. Ladies were playing canasta in the Ladies' Locker Room and golfers were enjoying the opening of the course. For dinner we served over 300 people with a festive, celebratory energy that filled the space. Everyone loved it! It was a day I will never forget."
Cutting the Ribbon
On Monday, November 6, all three news channels were conducting live remotes at the new Clubhouse, while The Desert Sun sportswriter Larry Bohannan sat down with Hubbard and Cardinalli as preparations for that afternoon's Ribbon Cutting were underway. After 16 short months of construction, BIGHORN unveiled its new 80,000 sf, state-of-the-art Clubhouse to a crowd of 350 Members, City officials and press.
Ogrodnick introduced original investor in BIGHORN James Gagan, who emceed the ceremony including the building's invocation by Father Howard Lincoln of Sacred Heart Church. Gagan praised BIGHORN Chairman R.D. Hubbard for "his visionary leadership in developing one of the greatest clubs in the world."
"So many people said it couldn't be done," observed Hubbard. He commended the extraordinary efforts of everyone involved, "We put a team together that was truly magical." He congratulated architects Swaback Partners, Lusardi Construction, Blackbird Interiors, and Guy Dreier Design on their talented design. He recognized BIGHORN President Carl Cardinalli, General Manager Tony Ogrodnick, the City of Palm Desert, the entire staff and 300 trades "for their tremendous tenacity in making sure everything was perfect."
As the ribbon was cut, the crowd filed into the Clubhouse living room where gleeful exclamations filled the room. There was a synergistic buzz as people discovered the panoramic mountain range and down-valley views, the spectacular wave ceiling with Calderesque accents, the 16' Sharon Marston chandelier, an incredible array of custom wall treatments, and the ultra-sophisticated Golf Shop with its own gem-lined Jewel Box from Leeds & Son.
As laughter and excitement filled the room, Chairman Hubbard commented to friends: "I believe we have set a new standard in the Clubhouse world, raising the bar to be one of the finest Clubhouses of our time."
Welcoming Home Members
As the week continued on, more and more Members returned home – all stopping in at the new Clubhouse, some even before going to their residence! By the following weekend, the Clubhouse was the absolute talk of the valley. Everyone was stunned by the perfection BIGHORN had created. While Welcome Home activities were beginning, talk turned to how the Club was going to accommodate the 1,000+ people attending Sunday' nights Welcome Home Party.
The soirée had an all-star line-up that included Emmy- nominated actor, writer, producer Anthony Anderson of 'Black-ish' as emcee and entertainment by disco legend KC and The Sunshine Band.
The event began in the living room of the exquisitely appointed Clubhouse where attendees were treated to cocktails and variety of delectable appetizers, while Leeds & Son Fine Jewelers' models showcased the precious stones and jewelry that can be found in the Clubhouse Jewel Box. Guests were then summoned to the beautifully paved Event Terrace where Executive Chef Greg Proper and his culinary team prepared an unbelievable three-course meal that came with rave reviews from a crowd filled with professional golfers, philanthropists, entrepreneurs, and CEOs.
Following dinner, the program began with BIGHORN Chairman R.D. Hubbard graciously thanking the "best team ever assembled," of Swaback Partners, Lusardi Construction, Blackbird Interiors and Guy Dreier Design who designed and constructed the breathtaking Clubhouse and Penthouses in just 16 months. "Thank you to our President Carl Cardinalli and General Manager Tony Ogrodnick who worked tirelessly on this project to make it become what you see today," said Hubbard. The party continued with spectacular fireworks filling the night sky, followed by the entertaining and high-energy disco sounds of KC and The Sunshine Band, immediately packing the dance floor in a celebration that continued into the night.
November continued to be one for the record books as Members brought guests to experience their new Clubhouse. Families came into town for the Thanksgiving holidays and the BIGHORN team serviced all the amenities. Yet long after their first visit, Members are still marveling at the curves, spaces, vastness, and intimate areas of the Clubhouse. "We delivered more than was expected. We've had Member after Member come up to us to say how happy they are, how pleased and excited they are," adds Ogrodnick.
"We're lucky to have one person, our Chairman, R.D. Hubbard," says Cardinalli. "He has the vision that everyone buys into because it's a good vision; it's a vision they want and like but can't necessarily articulate for themselves. The amazing thing is he succeeds in implementing the vision. It's easy for some to paint the picture but until you risk capital and make an investment, it's all talk. The combination of listening to and understanding your membership, envisioning its future and prudently making the investment to make that future come true is what makes Hubbard and BIGHORN successful."
"What R.D. Hubbard does for BIGHORN far exceeds a traditional leadership role," adds Cardinalli. "His drive and vision are always attuned to the wants and needs of Members and, as with any business, its vitality depends on the relevancy to its customers. On any given day you'll find R.D. or 'Dee' golfing on one of BIGHORN's courses, stopping by The Marketplace, meeting friends at The Vault, dining at the Canyons Steak House, checking in on a myriad of amenities, or meeting potential homeowners. Along the way he is constantly engaging Members in conversation and enjoys comments regarding the facilities and services."
Hubbard has built the Club around his personal connection to and genuine relationships with Members, and they notice. Investor and Member Robert Masterson says, "I have to give a lot of credit to R.D. He's always listening to the Members – to their needs and wants. Every year he's trying to add additional amenities. He's not letting other clubs catch up to him. He's always pushing our Club further and further into the future, and trying to create something better."